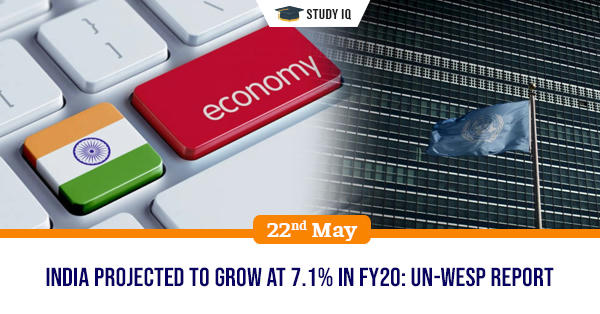 India projected to grow at 7.1% in FY20: UN-WESP Report
Date: 22 May 2019
Tags: World Economy
According to recently released World Economic Situation and Prospects (WESP) as of mid-2019, India's economy is projected to grow at 7.1% in the fiscal year 2020. This growth will be driven by strong domestic consumption and investment. With this, India remains fastest growing major economy in the world, ahead of China. However, it has revised India's growth projections from 7.4% estimated in January 2019.
Key Highlights of WESP as of Mid-2019
Global growth projections: Across both developed and developing countries, growth projections for 2019 have been downgraded. It is mainly due to unresolved trade tensions and elevated international policy uncertainty. Following an expansion of 3.0% in 2018, world gross product growth is now projected to moderate to 2.7%% in 2019 and 2.9% in 2020.
Risks that could trigger prolonged global slowdown: Further escalation in trade disputes, sudden deterioration in financial conditions, and accelerating effects of climate change. The increase in frequency and intensity of natural disasters highlight rising threats from climate change, particularly for the most vulnerable economies.
Monetary Policy: The slowdown in global economic activity has triggered shift towards easier monetary policy stances across many developed and developing economies. This shift is taking place in environment of subdued global inflation, amid weakening demand and moderate outlook for global commodity prices.
South Asia: It remains on strong growth path, even as forecasts have been revised downward. Following an expansion of 5.7% in 2018, GDP growth is estimated at 5.0% in 2019 and 5.8% in 2020. However, across region, output continues to be constrained by infrastructure bottlenecks. Indian economy accounts for two-thirds of regional output in South Asia.
India's growth projections: India's economy is projected to grow at 7%% in the fiscal year 2019 and 7.1% in the fiscal year 2020 on the back of strong domestic consumption and investment. India's exports remain more robust, as around half of exports are destined for faster-growing Asian markets.
About WESP report
It is joint product of United Nations Department of Economic and Social Affairs (UN/DESA), United Nations Conference on Trade and Development (UNCTAD) and five UN regional commissions.