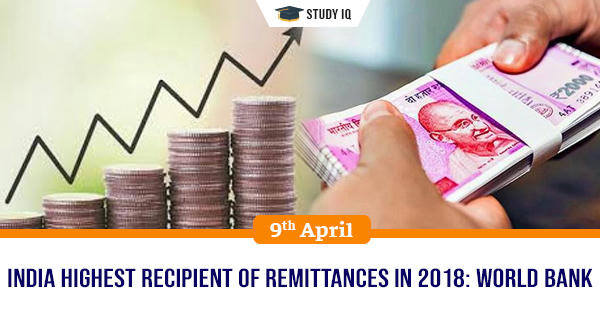 India highest recipient of remittances in 2018: World Bank
Date: 09 April 2019
Tags: World Economy
According to recently published World Bank's Migration and Development brief, India retained its position as world's top recipient of remittances by receiving record $79 billion back home in 2018. India was followed by China ($67 billion), Mexico ($36 billion), Philippines ($34 billion), and Egypt ($29 billion).
Key Highlights of WB Brief
Global remittances:

Including high-income countries has reached $689 billion in 2018, up from $633 billion in 2017. Remittances are on track to become largest source of external financing in developing countries.

Remittances to low-and middle-income countries:

It has reached record high of $529 billion in 2018, an increase of 9.6% over the previous record high of $483 billion in 2017.

Remittance to India:

Over the last three years, India has registered significant flow of remittances from $62.7 billion in 2016 to $65.3 billion 2017. Remittances grew by more than 14% in India. Flooding disaster in Kerala has likely boosted financial help that migrants sent to families.

Remittances to South Asia:

It grew 12% to $131 billion in 2018, outpacing the 6

%

growth in 2017. The upsurge was driven by stronger economic conditions in United States and pick-up in oil prices, which had positive impact on outward remittances from some Gulf Cooperation Council (GCC) countries.

Avg cost of sending remittance:

Global average cost of sending $200 remittance remained high, at around 7% in first quarter of 2019.

The high costs of money transfers reduce benefits of migration. Reducing remittance costs to 3% by 2030 is global target under Sustainable Development Goal (SDG) 10.7.

There is need for renegotiating exclusive partnerships and allowing players operate through national post offices, banks, and telecommunications companies to increase competition for opening new transferring and lowering remittance prices.