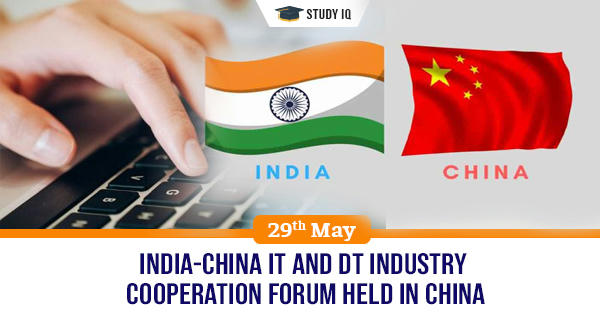 India-China IT and DT Industry Cooperation Forum held in China
Date: 29 May 2019
Tags: World Economy
The 2019 Sino-India IT and DT Industry Cooperation Forum was held in Guiyang (Guizhou), China to encourage IT companies. It seeks to create new chapter in India-China cooperation in the new era of digital transition. It was held on sidelines of International Big Data Industry Expo 2019.
International Big Data Industry Expo 2019
It was four-day event is being attended by 448 enterprises from 59 countries. It featured high-end dialogues, forums, contests and exhibitions highlighting the technical innovations.

It was being attended by representatives of companies like Apple, Qualcomm, Huawei, Tencent, Alibaba and Foxconn.

It was initiated in 2015 and since then this expo has become important annual event for the big data industry. Last year, it had attracted over 40,000 participants from 30 countries.