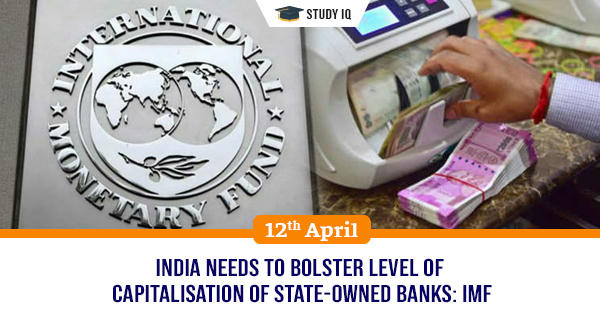 India needs to bolster level of capitalisation of state-owned banks: IMF
Date: 12 April 2019
Tags: World Economy
International Monetary Fund's (IMF) Financial Sector Assessment Programme (FSAP) for India has recommended bolstering level of capitalisation of some banks, particularly government-owned banks. This is required considering high level of non-performing loans in India.
Highlights of FSAP for India
It also has recommended resolution and recognition of Non-performing loans as part of process of cleaning up the banking system of non-performing loans. It also acknowledged that some steps that were taken by authorities to boost capital buffers in banks and also to improve governance in state-owned banks that have had some positive impact.
Financial Sector Assessment Programme (FSAP)
It is comprehensive and in-depth analysis of country's financial sector. Its assessments are joint responsibility of the IMF and World Bank in developing economies and emerging markets and of IMF alone in advanced economies.

It includes two major components: (i) financial stability assessment, which is the responsibility of the IMF, and (ii) financial development assessment, which is responsibility of World Bank.

Two-fold goal of FSAP assessments: Gauge stability and soundness of financial sector and assess its potential contribution to growth and development.