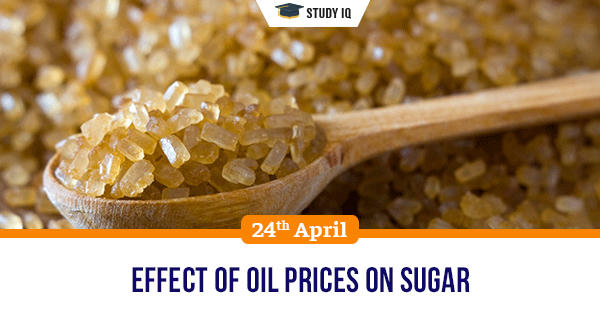 Effect of oil prices on sugar
Date: 24 April 2020
Tags: World Economy
Issue
It is not only oil that has tumbled, with prices of West Texas Intermediate grade crude closing at an unprecedented minus $37.63 per barrel on April 20. On April 21, prices of raw sugar for May delivery at New York crashed to 9.75 cents per pound, the lowest closing for a nearest-month futures contract.
Details
All commodities have taken a demand hit from subdued economic activity and lockdowns imposed by many countries to combat the COVID-19 pandemic. But sugar is one commodity that, until quite recently, was on a bull run.

Most estimates showed global production in 2019-20 (October-September) to fall short of consumption by 8-9 million tonnes (mt). On February 12, the front-month raw sugar futures contract at New York actually closed 15.78 cents per pound, the highest since May 2017. A drop from that to below 10 cents is rather steep.

One reason for this collapse is the closure of restaurants, weddings and other social functions not taking place, and people avoiding ice-creams and sweetened cold beverages that might cause throat infections.

The consumption in India alone is expected to dip by 1.5-2 mt in 2019-20, from the normal 25.5-26 mt levels, which also is a direct effect of the lockdown.

Sinking crude prices appear an even bigger factor. The juice from crushing sugarcane can be crystallised into sugar or fermented into alcohol. When oil prices are high, mills, especially in Brazil, tend to divert cane for making ethanol (alcohol of 99%-plus purity) that is used for blending with petrol.

In 2019-20 (April-March), only 34.32% of cane crushed by Brazilian mills went for manufacturing 26.73 mt of sugar. The rest was used to produce 31.62 billion litres of ethanol. But with oil prices tanking, mills will not find it attractive to divert cane for ethanol.

Dip in sugar consumption, together with higher Brazilian output, is bad news for both Indian sugar mills and cane farmers. Before COVID-19 happened, the Indian industry was expecting to export 5.5-6 mt of raw sugar in 2019-20.

The current plunge in world prices, plus Brazil's likely production surge, would upset calculations but the bright spot is that Indonesia has a large demand for imported sugar. It has also slashed duty from 15% to 5% on Indian raw sugar.

Moreover, the industry's problem is not from sugar alone. The lockdown has reduced off-take of alcohol, be it potable liquor or ethanol for blending with petrol. But with cars and two-wheelers not running, oil market companies aren't very keen to procure ethanol.