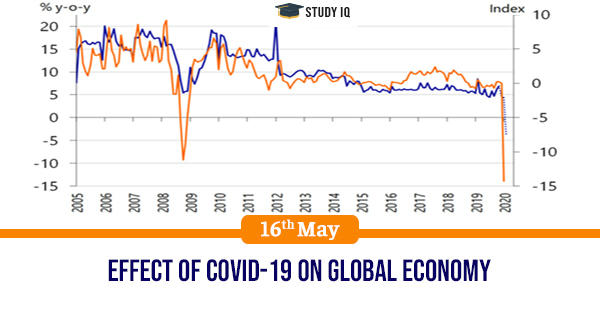 Effect of COVID-19 on global economy
Date: 16 May 2020
Tags: World Economy
Issue
Amid the coronavirus pandemic, several countries across the world resorted to lockdowns to "flatten the curve" of the infection. These lockdowns meant confining millions of citizens to their homes, shutting down businesses and ceasing almost all economic activity.
Background
According to the International Monetary Fund (IMF), the global economy is expected to shrink by over 3 per cent in 2020 – the steepest slowdown since the Great Depression of the 1930s.
Details
The pandemic has pushed the global economy into a recession, which means the economy starts shrinking and growth stops.

In the US, Covid-19-related disruptions have led to millions filing for unemployment benefits. Since March 21, more than 36 million have filed for unemployment benefits, which is almost a quarter of the working-age population.

Further, an early analysis by IMF reveals that the manufacturing output in many countries has gone done, which reflects a fall in external demand and growing expectations of a fall in domestic demand.

The IMF's estimate of the global economy growing at -3 percent in 2020 is an outcome "far worse" than the 2009 global financial crises. Economies such as the US, Japan, the UK, Germany, France, Italy and Spain are expected to contract this year.

Advanced economies have been hit harder, and together they are expected to grow by -6 percent in 2020. Emerging markets and developing economies are expected to contract by -1 percent. If China is excluded from this pool of countries, the growth rate for 2020 is expected to be -2.2 percent.

China's GDP dropped by 36.6 percent in the first quarter of 2020, while South Korea's output fell by 5.5 percent, since the country didn't impose a lockdown but followed a strategy of aggressive testing, contact tracing and quarantining.

Due to the fall in travel, global industrial activity has been affected. Oil prices fell further in March as the transportation section, which accounts for 60 percent of the oil demand, was hit due to several countries imposing lockdowns.

IMF projects a decrease in food prices by 2.6 percent in 2020, caused by supply chain disruptions, border delays, food security concerns in regions affected by Covid-19 and export restrictions.

Many advanced economies in the world have rolled out support packages. While India's economic stimulus package is 10 percent of its GDP, Japan's is 21.1 percent, followed by the US (13 percent), Sweden (12 percent), Germany (10.7 percent), France (9.3 percent), Spain (7.3 percent) and Italy (5.7 percent).

Even as economic activity resumes gradually, the situation will take time to normalise, as consumer behaviours change as a result of continued social distancing and uncertainty about how the pandemic will evolve.