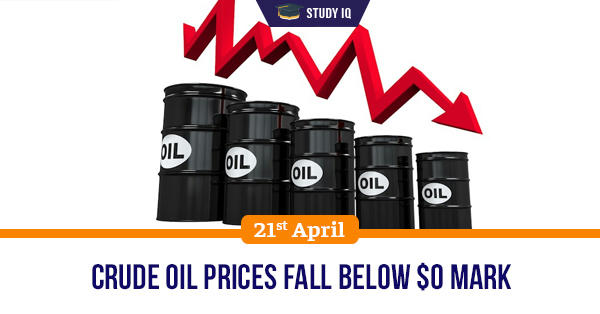 Crude oil prices fall below $0 mark
Date: 21 April 2020
Tags: World Economy
Issue
US oil markets created history when prices of West Texas Intermediate (WTI), the best quality of crude oil in the world, fell to "minus" $40.32 a barrel in New York.
Background
Not only is this the lowest crude oil price ever known, the previous lowest was immediately after World War II — but also well below the zero-mark.
Details
The first thing to understand is that, even before the Covid-19 induced global lockdown, crude oil prices had been falling over the past few months. They were closer to $60 a barrel at the start of 2020 and by March-end, they were closer to $20 a barrel.

The reason was straightforward. The price of a commodity falls when supply is more than demand. To a great extent, oil markets, globally and more so in the US, are facing an enormous glut.

Historically, the Organization of the Petroleum Exporting Countries (OPEC), lead by Saudi Arabia, which is the largest exporter of crude oil in the world (single-handedly exporting 10% of the global demand), used to work as a cartel and fix prices in a favourable band. It could bring down prices by increasing oil production and raise prices by cutting production.

As Saudi Arabia and Russia disagreed over the production cuts required to keep prices stable. As a result, oil-exporting countries, led by Saudi Arabia, started undercutting each other on price while continuing to produce the same quantities of oil.

According to reports, all possible the mismatch resulted in almost all storage capacity being exhausted. Trains and ships, which were typically used to transport oil, too, were used up just for storing oil.

This desperation from both sides, buyers and sellers, to get rid of oil meant the oil prices not only plummeted to zero but also went deep into the negative territory.

In the short-term, for both, the holders of the delivery contract and the oil producers, it was less costly to pay $40 a barrel and get rid of the oil instead of storing it (buyers) or stopping production (producers).