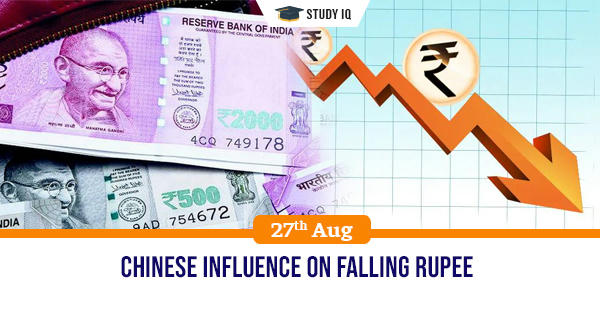 Chinese influence on falling rupee
Date: 27 August 2019
Tags: World Economy
Issue
The Indian rupee fell sharply by 40 paise against dollar to hit 72.05. The global recession and trade war between Us and China are said to have influenced this phenomenon.
Background
Normally, the rupee moves in line with the movement of the stock market, as a positive development assures rupee to gain its value in the market.
The rupee has reeled under global pressure as markets remained concerned over an escalation of the trade tariff war between the United States and China.
Details
Recently the Renminbi fell to a new 11-year low of 7.15 against the dollar due to rising concerns over the tariff war. Most emerging market currencies, including the Malaysian Ringgit, the Indonesian Rupiah, and the South African Rand, came under pressure. So did the rupee, which fell sharply.

Trade war fears between US and China and a sharp fall in Chinese Yuan (breaching 7 to a dollar) hit the global market sentiments and decline in currencies of most countries including India.
Link between rupee and Renminbi
A weakness in the renminbi (yuan) increases the competitiveness of Chinese exports, as every dollar can import larger quantities of Chinese goods.

At the same time, it puts competing countries under pressure, as their goods become relatively more expensive. As the exports become expensive rupee losses its value and depreciates.

US and overall slowdown in global growth has fuelled the concerns that China may be devaluing its currency to boost its exports and push growth.