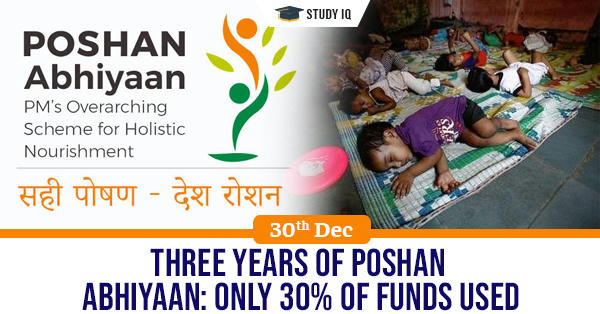 Three years of Poshan Abhiyaan: Only 30% of funds used
Date: 30 December 2019
Tags: Women & Child
Issue
The State governments and the Union Territories have utilised a mere 30% of the funds released under the Poshan Abhiyaan, or the National Nutrition Mission, since it was launched in 2017.
Background
The report released by the Ministry of Health and Welfare in October, showed that 35% of children under the age of 5 are stunted and in this age group, 17% are wasted (low weight for height) and 33% underweight (low weight for age).
Details
Barring Mizoram, Lakshadweep, Himachal Pradesh and Bihar, none of the governments used even half of the sum granted in the past three years, according to an analysis of the data shared in Parliament.

A total of ?4,283 crore was disbursed by the Centre to different States and Union Territories.

Of this, ?1,283.89 crore was utilised until October 31, 2019, or only 29.97% of the funds granted.

The five best performers were Mizoram (65.12%), Lakshadweep (61.08%), Bihar (55.17%), Himachal Pradesh (53.29%) and Meghalaya (48.37%).

The worst five performers were Punjab (0.45%), Karnataka (0.74%), Kerala (8.75%), Jharkhand (13.94%) and Assam (23.01%).

The programme was conceptualised as one to be implemented in phases. It is, thus, expected that utilisation will increase over years.
Poshan Abhiyaan (National Nutrition Mission)
The Poshan Abhiyaan, the Centre's flagship programme, is aimed at improving nutritional outcomes among pregnant women, lactating mothers and children by reducing the level of stunting, underweight, anaemia and low birth weight by 2022.

NNM targets to reduce stunting, under- nutrition, anaemia (among young children, women and adolescent girls) and reduce low birth weight by 2%, 2%, 3% and 2% per annum respectively.

Although the target to reduce Stunting is atleast 2% p.a., Mission would strive to achieve reduction in Stunting from 38.4% (NFHS-4) to 25% by 2022 (Mission 25 by 2022).