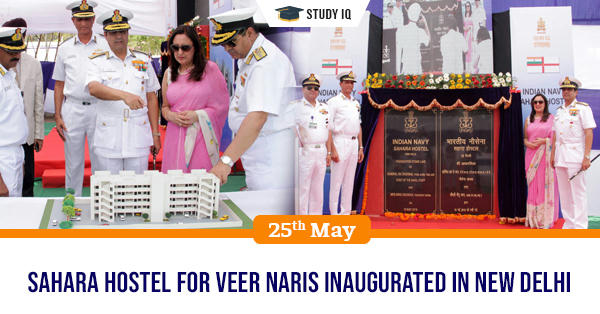 Sahara Hostel for Veer Naris inaugurated in New Delhi
Date: 25 May 2019
Tags: Women & Child
Lt. Governor of Delhi Anil Baijal inaugurated the Sahara Naval Hostel for the 'Veer Naris' at Vasant Kunj, New Delhi. The hostel addresses long term need felt towards rehabilitation of Naval Widows/Veer Naris and provide them a safe and secure environment which will help them rebuild their lives.
Sahara Hostel Project
It is aimed towards providing rehabilitation of Naval widows and their families in the period immediately after the unfortunate demise of their husbands.

Implementing Agencies:

It has been steered by Indian Navy and has been built in Corporate Social Responsibility (CSR) partnership with National Buildings Construction Corporation (NBCC).

Features:

It comprises compact suites equipped with all necessary amenities for dignified living, along with a common Dining Hall and a Community Hall.

Beneficiaries:

Only those widows who have completed requisite period in Government accommodation after demise of their husbands are eligible to apply for stay in the hostel for one year. Extension beyond this one year period will be considered on special circumstances and based on availability and merits of the case.