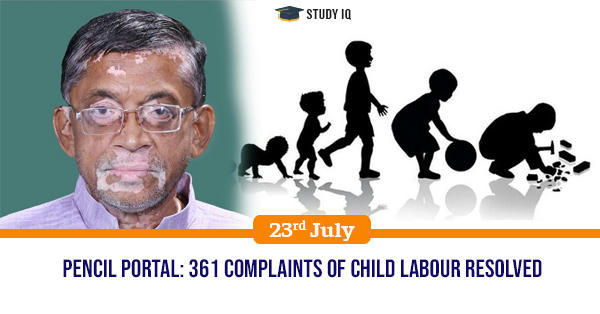 PENCIL Portal: 361 complaints of child labour resolved
Date: 23 July 2019
Tags: Women & Child
Union Minister of Labour and Employment (I/C) Santosh Kumar Gangwar in written reply to question in Lok Sabha notified that so far 361 complaints of child labour have been resolved through PENCIL Portal. PENCIL stands for Platform for Effective Enforcement for No Child Labour.
About PENCIL Portal
It is a separate online portal launched in September 2019 to ensure effective enforcement of provisions of Child Labour Act and smooth implementation of National Child Labour Project (NCLP) Scheme.

Components of PENCIL Portal:

Child Tracking System, Complaint Corner, State Government, National Child Labour Project and Convergence.

Features:

It connects Central Government to State Government(s), District(s), all Project Societies and General public. It also facilitates anyone to register online complaints regarding child labour. On receiving complaint, it is automatically assigned to concerned nodal officer for further necessary action.

Implementation agencies:

Each district is mandated to nominate District Nodal Officers (DNOs) to complaints through this portal. DNOs are tasked to check genuineness of received complaint and take rescue measures in coordination with police (incase of genuine complaint) within 48 hours of receiving complaints.
About National Child Labour Project (NCLP)
It is central sector scheme for rehabilitation of child labour. It was launched in 1988. Under it, funds are provided directly to District Project Societies headed by District Magistrate/Collector/Deputy Commissioner who in turn allocates funds to NGOs/Voluntary Agencies, etc. for running of Special schools/rehabilitation/Training centres for rehabilitation of child labourers and mainstreaming them into formal schooling system. These centres also provide non-formal education, supplementary nutrition, vocational training and stipend to children withdrawn from employment.