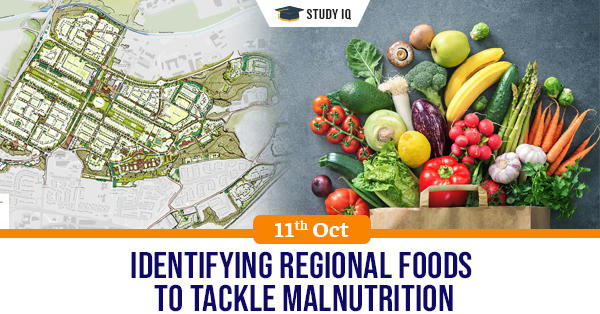 Identifying regional foods to tackle malnutrition
Date: 11 October 2019
Tags: Women & Child
Issue
The government is planning to develop a map highlighting local foods of different States, which can provide nutritional supplements and tackle malnutrition.
Background
The move comes after the government's first-ever survey on nutrition highlighted that only 6% of children between the age group of 6 and 23 months received a minimum acceptable diet.
Details
As per the study, the prevalence of minimum acceptable diet was as low as 1% in Andhra Pradesh. It was the highest in Sikkim with only 36% children being adequately fed.

The government is trying to introduce ideas where the solution to tackling malnutrition lies in promoting regional cropping patterns and embracing local food that are rich in protein.

The map is planned to be developed by Bill and Melinda Gates Foundation and Deendayal Research Institute.
Malnutrition
Malnutrition is a condition that results from eating a diet in which one or more nutrients are either not enough or are too much such that the diet causes health problems.
It may involve calories, protein, carbohydrates, vitamins or minerals.
Stunting
Stunted growth refers to low height-for-age, when a child is short for his/her age but not necessarily thin. Also known as chronic malnutrition, this carries long-term developmental risks.
Wasting
Wasted refers to low weight-for-height where a child is thin for his/her height but not necessarily short. Also known as acute malnutrition, this carries an immediate increased risk of morbidity and mortality. Wasted children have a 5-20 times higher risk of dying from common diseases like diarrhoea or pneumonia than normally nourished children.
Underweight
Under-weight refers to low weight-for-age, when a child can be either thin or short for his/her age. This reflects a combination of chronic and acute malnutrition.
Methods to tackle malnutrition
Adequate availability of food and related items to the public can ensure that nutrition is supplemented.
By economic progress, people can be rich enough to buy food items regularly.
Adequate facilities to tackle the diseases that can cause malnutrition.