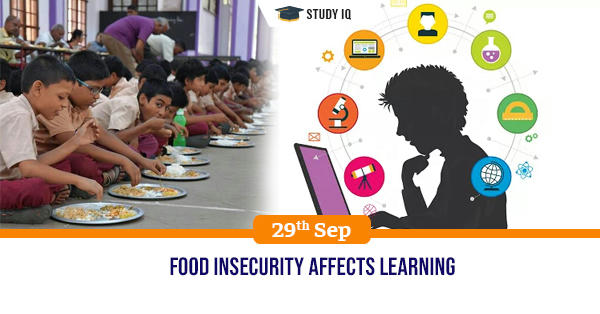 Food insecurity affects learning
Date: 29 September 2019
Tags: Women & Child
Issue
A new research says that Indian children are not able to perform well in their studies due to widespread food insecurity at home.
Background
The team examined how the experience of food insecurity at home at ages of 5, 8 and 12 years affected children's performance in studying maths, reading the local language, vocabulary skills and English ability in adolescence (12 years old).
Details
Study shows that children whose families struggled with their food needs during different stages of childhood performed less well in all the four tests in adolescence compared to their peers.

The link between food insecurity at home and learning was more pronounced for those children who experienced chronic food insecurity and/or experienced it during early childhood (at 5 years).

Transitory spells of food insecurity at home did not affect the kids' test scores in reading and vocabulary, but their mathematical skills were still affected.This suggests that children may be able to bounce back from short-term food insecurity in some learning domains, but not in others.
Impact
Experiencing food insecurity at home during childhood can affect India's economy through lower human capital accumulation.
Way ahead
Mid-day meal schemes has helped to improve learning and classroom effort. Expanding this programme to include breakfast for children at higher risk of food insecurity or in the lean season may prevent hunger and its negative repercussions on children.

Increased budget allocation and effective implementation of the Integrated Child Development Services programme along with enhancing nutrient values in food.

Community kitchens for provisioning free food for needy populations are another initiative worth considering in this regard.