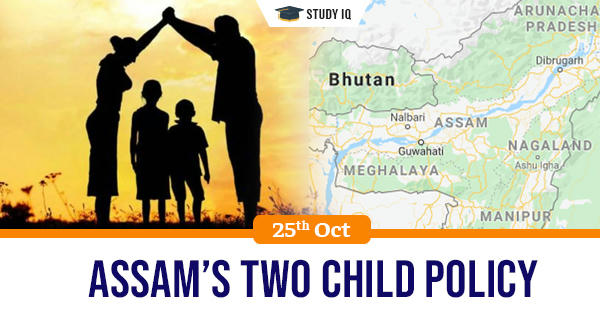 Assam's Two child policy
Date: 25 October 2019
Tags: Women & Child
Issue
The Assam Cabinet on Monday decided that no government jobs will be given to persons having more than two children after January 1, 2021.

Background
In September 2017, the Assam Assembly had passed the 'Population and Women Empowerment Policy of Assam' that specified that job candidates with two children only would be eligible for government employment and the existing government staff were to strictly follow the two children family norm.

Details
India's Population control policy
The Ministry of Health and Family Welfare is the government unit responsible for formulating and executing family planning in India.

An inverted Red Triangle is the symbol for family planning health and contraception services in India.

In addition to the newly implemented government campaign, improved healthcare facilities, increased education for women, and higher participation among women in the workforce have helped lower fertility rates in many Indian cities.

While India is improving in fertility rates, there are still areas of India that maintain much higher fertility rates.
Importance of family planning
Family planning program benefits not only parents and children but also to society and nation, by being able to keep the number of new births under control allows for less population growth.

With less population growth this will allow for more resources towards those already existing in the Indian population, with more resources comes longer life expectancy and better health.

Women provided with contraceptions contribute to growth in the supply of skilled workers, including those most likely to enter technological fields and contribute to innovation.

Giving women the ability to control family planning decisions allows both women and children to increase their levels of human capital, thereby increasing innovation and societal wealth.