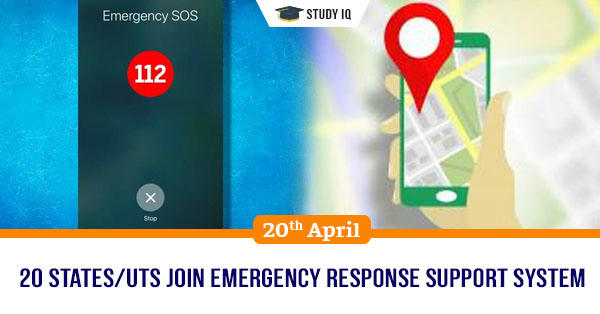 20 States/UTs join Emergency Response Support System
Date: 20 April 2019
Tags: Women & Child
20 States and Union territories have so far joined pan-India network of single emergency helpline number '112' launched as part of Emergency Response Support System (ERSS). This single number for emergency services is similar to '911' in United States.
Emergency Response Support System (ERSS)
It envisages single pan-India emergency number '112', which is internationally recognised number, to target all types of emergencies.

Under it, all emergency numbers like 100 (police), 101 (fire), 102 (ambulance and disaster response) have been integrated into one single number '112'.

It is being implemented under Nirbhaya Fund, which was set up by Central Government for projects specifically designed to improve the safety and security of the women.

Himachal Pradesh was first state to launch this pan-India single emergency number '112' under ERSS project.
Features of ERSS
On pressing 112 number, the system identifies location of person in distress connecting through voice or data for providing immediate assistance.

SHOUT feature exclusively for women has been introduced in '112 India' mobile app to ensure safety of women.

It provides immediate assistance from registered volunteers in vicinity apart from immediate assistance from Emergency Response Centre (ERCs).
Benefits of ERSS
It provides single emergency response number across country, providing 24*7 efficient and effective response system.

It can receive inputs from various voice and data services like voice call, SMS, e-mail and panic buttons in public transport, to attend to citizens in distress.

Location of persons in distress can also be identified by authorities simply by connecting through voice or data to provide immediate assistance to the affected.

It has automated response system feature for timely dispatch of field resources (police) to location of incidence using system.

It also has GPS enabled dispatch of vehicles to locate nearest vehicles. It will provide standardized and easy to use mobile apps, Internet of Things (IoT) applications on Pan-India basis.

It will help in optimum manpower utilisation and prompt action on emergency calls. It will also simplify problems related to coordination among police force.