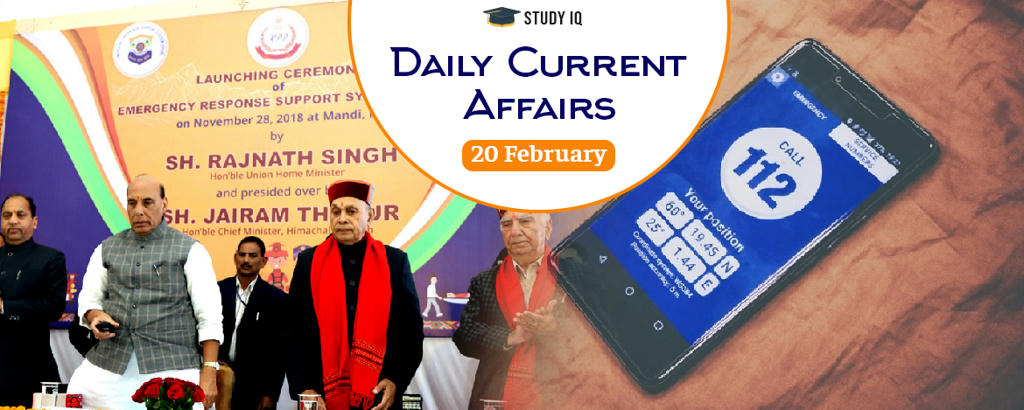 112: Government launches Emergency Response Support System
Date: 20 February 2019
Tags: Women & Child
Union Ministry of Home Affairs (MHA) has launched "112 single emergency helpline number" under Emergency Response Support System in 16 states/UTs. Under this system, all emergency numbers like 100 (police), 101 (fire), 102 (ambulance and disaster response) have been integrated into one single number '112'. This emergency number has been introduced on lines of US emergency number 911. ERSS had already been successfully implemented in Himachal Pradesh (first state) and Nagaland.
16 States/UTs are: Andhra Pradesh, Punjab, Uttarakhand, Kerala, Madhya Pradesh, Rajasthan, Uttar Pradesh, Telangana, Tamil Nadu, Gujarat, Puducherry, Lakshadweep, Andaman, Dadra & Nagar Haveli, Daman & Diu, Jammu and Kashmir. In Maharashtra it has been rolled out only in Mumbai City.
Emergency response system can be triggered
Dialing 112 from any phone.

In case of feature phones, long press of touch key 5 or 9.

On smart phones, power button is dedicated panic button. After it is pressed three times quickly.

Using 112 India Mobile App which is available for free downloading.

For women and children, 112 India App provides special SHOUT feature which alerts registered volunteers in vicinity of victim for immediate assistance.
Significance of ERSS
It provides single emergency response number across country, providing 24*7 efficient and effective response system.

It can receive inputs from various voice and data services like voice call, SMS, e-mail and panic buttons in public transport, to attend to citizens in distress.

Location of persons in distress can also be identified by authorities simply by connecting through voice or data to provide immediate assistance to the affected.

It has automated response system feature for timely dispatch of field resources (police) to location of incidence using system.

It also has GPS enabled dispatch of vehicles to locate nearest vehicles. It will provide standardized and easy to use mobile apps, Internet of Things (IoT) applications on Pan-India basis.
It will help in optimum manpower utilisation and prompt action on emergency calls. It will also simplify problems related to coordination among police force.