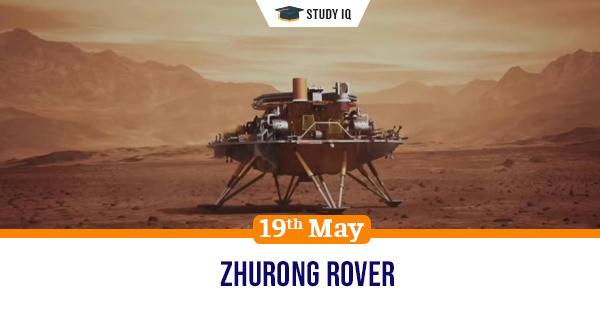 Zhurong rover
Date: 19 May 2021
Tags: Space
Issue
The Tianwen-1 aircraft of China has successfully landed on the Mars, becoming only the second nation to achieve their feat.
Background
The Tianwen-1 consists of Zhurong rover, which will explore the red planet for signs of life and study its geology.
Details
The location for the landing of the Chinese aircraft was a large plain located in Mars' northern hemisphere called the Utopia Planitia.

With the soft landing on Mars' surface, China forms an elite group with the USA that have been able to land on Mars' surface.
China's Mars mission
The Tianwen-1 mission was launched in July 2020. It consists of an orbiter, lander and a small sized rover called Zhurong.

The Tianwen-1 mission was part of series of missions by various countries that had planned to make use of the short window when Mars and Earth are closest.

The orbiter mission will be continuing for a long time whereas the Zhurong mission will be available for about 90 days.
The Zhurong rover
The lander will take pictures of the surrounding areas and later will chose the safest spot for putting the rover down. The aim would be to select a spot will no boulders or craters.

The rover is heavier than Spirit and Opportunity rovers but only a third of the weight of Perseverance and Curiosity rovers.

Instruments aboard the rover include cameras, a magnetic field detector, ground-penetrating radar and a weather station. It will have solar panels for energy.
Mars rover missions
Apart from China, only US has been able to land on Mars' surface. The Soviet managed to send a rover to Mars but failed to establish connection after landing.