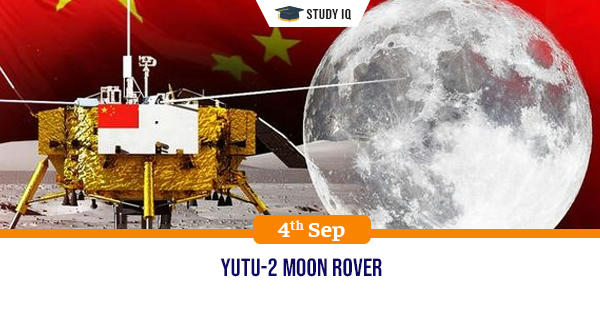 Yutu-2 moon rover
Date: 04 September 2019
Tags: Space
Issue
China's lunar rover Yutu has recently discovered a "gel-like" substance on the surface of the moon.
Background
The Chinese Lunar Exploration Program is designed to be conducted in three phases of incremental technological advancement: the first is to reach lunar orbit, the second is to land and rover on the Moon, the third is to collect lunar samples from the near-side and send them to Earth, a task for the future Chang'e 5 and Chang'e 6 missions.
Details
As the researchers were preparing to power Yutu-2's usual mid-day "nap" which is important to protect the rover from the high intensity of temperature and radiations from the sun, a unique phenomenon was observed.

A small crater was spotted that contained some substance with a "colour" and "lustre" which was clearly different from the surrounding lunar surface.

The Chang'e 4 team decided to explore more about this strange substance. As per the

Yutu-2's "Drive Diary"

, the team instructed the rover to point its spectrometer, a device that can help in finding the composition of the material, towards the substance.

Up till now, there are still no details about the nature of the newly discovered substance. As per the report, an outside researcher has suggested that this substance is melt grass made from meteorites that keep on striking the Moon's surface.
Chang'e Mission
Chang'e 4 is a robotic spacecraft mission, part of the second phase of the Chinese Lunar Exploration Program. It achieved the first soft landing on the far side of the Moon, on 3 January 2019.
Yutu-2 rover
Yutu-2 rover is a part of Change'4 mission to study far side of the lunar surface.