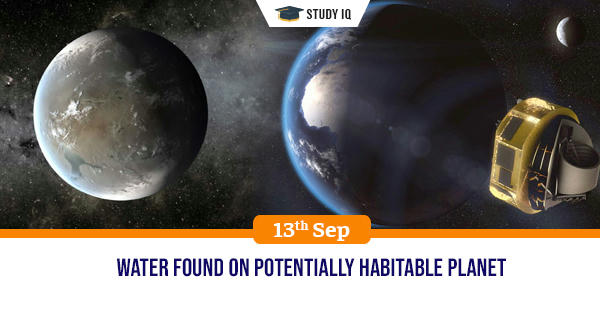 Water found on potentially habitable planet
Date: 13 September 2019
Tags: Space
Issue
Astronomers for the first time have discovered water in the atmosphere of an exoplanet having Earth-like temperatures that could support life.
Details
K2-18b is now the only planet orbiting a star outside the Solar System which is known to have both water and temperatures that could be potentially habitable.

The planet orbits the cool dwarf star K2-18, which is about 110 light years from Earth in the Leo constellation.

The discovery is the first successful atmospheric detection for an exoplanet orbiting in its star's 'habitable zone', at a distance where water can exist in liquid form.

The team used archive data from 2016 and 2017 captured by the ESA/NASA Hubble Space Telescope and developed open-source algorithms to analyse the starlight filtered through K2-18b's atmosphere.

The results revealed the molecular signature of water vapour, also indicating the presence of hydrogen and helium in the planet's atmosphere.

Further studies can determine the amount of atmospheric moisture and cloud coverage.
Hubble telescope
The Hubble Space Telescope is a space telescope that was launched into low Earth orbit in 1990 and remains in operation.
Goldilocks zone
The goldilocks zone or habitable zone, is the range of orbits around a star within which a planetary surface can support liquid water given sufficient atmospheric pressure . This marks the region where a life can exist.