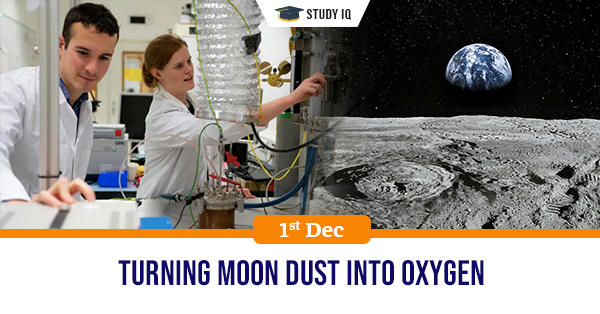 Turning moon dust into oxygen
Date: 01 December 2020
Tags: Space
Issue
Engineers are working on a technology that extracts oxygen from lunar dust, releasing metal as a by-product that could be utilized for the construction of moon based equipment.
Background
The dust contains almost 45 percent oxygen and iron and titanium, which will be used as 'metal'.
Details
It could be an early step to establishing an extra-terrestrial oxygen extraction plant. This would help to enable exploration and sustain life on the Moon while avoiding the enormous cost of sending materials from Earth.

Scientists will heat the simulated moon dust and calcium chloride salt to 950 degrees Celsius and then split the 02 with an electric current, leaving the metal alloys.

The process is expected to generate about 95 percent of oxygen in 50 hours, with at least 75 percent extraction in just the first 15 hours.

The extracted oxygen will be used as rocket fuel and breathing air for settlers in the future. The project is part of ESA's preparations to establish a permanent lunar presence.

Scientists will tinker with the process by adjusting the electrical current and reagents to boost the amount of oxygen, while trying to reduce the temperature needed to produce it.

They will also work to reduce the size of the chamber the process takes place in so that it can be transported efficiently to the Moon.