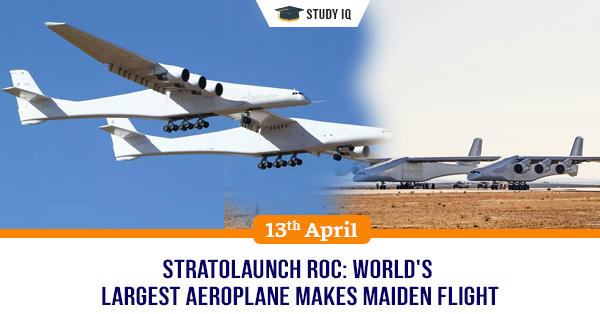 Stratolaunch Roc: World's largest aeroplane makes maiden flight
Date: 13 April 2019
Tags: Space
The world's largest aeroplane named Roc, owned by Stratolaunch made its maiden test flight over Mojave Desert in California, United States. It is designed to carry into space and drop rocket that will in turn, ignite to deploy satellites. It has world-record wingspan of 385 feet (117 meters).
Stratolaunch Roc
It has been developed by US private company Strato Launch System owned by late Microsoft co-founder Paul Allen.

It has been nicknamed Roc after giant mythical bird. It aims to make access to orbit more affordable and accessible by launching satellites into space from aircraft, rather than from ground.

It is made up of two identical Boeing 747 aircraft fuselages connected by a wing center section and made of lightweight composite materials

It has length of 73 m and wingspan of 117 m (longest in the world). It is powered by six Pratt & Whitney PW4056s engines, three engines side by side on the outer wings. It requires runway length of at least 3660 m to for flight.

It has carrying capacity of 549,290 pounds (249,153 kilograms) payload with mission radius of approximately 2400 km to reach rocket launch point. Besides its range for freight transport is maximum of about 15,000 kms.
Benefits
Its launch architectures differ from traditional vertically launched rockets as this plane can carry rocket above densest part of atmosphere, before being released to launch to space. The advantage of such system is that it can take off from any runway that is long enough to accommodate plane, fly around bad weather if need be and launch satellite into any orbital inclination. This lowers cost needed to escape Earth's atmosphere by utilizing less costly jet fuel and reusable carrier aircraft. It also offers more flexibility for launch inclinations than fixed launch pads.