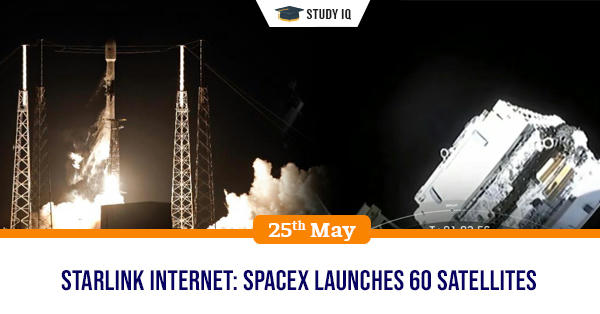 Starlink Internet: SpaceX launches 60 Satellites
Date: 25 May 2019
Tags: Space
Elon Musk led Private rocket company SpaceX has launched first batch of 60 small satellites into low-Earth orbit (550km) as part of its new Starlink internet service project. The satellites were launched on board of reusable Falcon 9 rocket. It was SpaceX's heaviest launch to date at about 13,620 kilograms (each of 60 satellites weigh 227 kilograms). Moreover, it was first large scale deployment of SpaceX's Starlink constellation. To become operational, SpaceX's starline needs six more such launches and further six for significant coverage around most of Earth.
Starlink
It is Elon Musk led-SpaceX's ambitious project to develop low-cost, high-performance satellite bus to provide space-based Internet communication system.

It is being implemented by SpaceX's satellite development facility in Redmond, Washington. Its purpose is to provide high-speed satellite internet across Earth around the clock.

Its development was started in 2015 and two prototype test-flight satellites were launched in February 2018.

Under it, SpaceX is planning to deploy nearly 12,000 satellites in three orbital shells by mid-2020s: initially placing approximately 1600 in 550-kilometer altitude shell, subsequently placing ~2800 Ku- and Ka-band spectrum sateliites at 1,150 km and 7500 V-band satellites at 340 km.