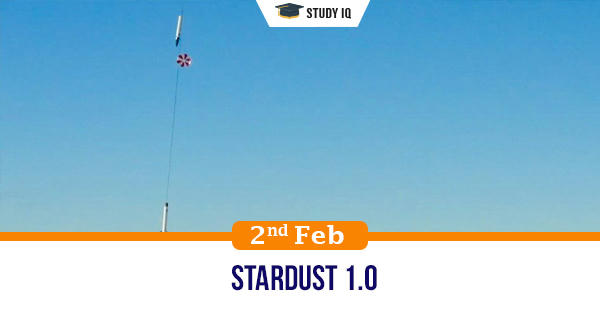 Stardust 1.0
Date: 02 February 2021
Tags: Space
Issue
Stardust 1.0 become the first commercial space launch powered by biofuel, which is non-toxic for the environment as opposed to traditionally used rocket fuels.
Background
The launch marks another historic first for Maine since Stardust 1.0 has become the first commercial rocket launch for the state located in north-eastern US.
Details
Stardust 1.0 is a launch vehicle suited for student and budget payloads. The rocket is 20 feet tall and has a mass of roughly 250 kg.

The rocket can carry a maximum payload mass of 8 kg and during its first launch carried three payloads.

The payloads included a cubesat prototype built by highschool students, a metal alloy designed to lessen vibrations, which is developed by Kellogg's Research Labs, and a cubesat from software company Rocket Insights.

The rocket is manufactured by bluShift, an aerospace company based in Maine that is developing rockets that are powered by bio-derived fuels.

These rockets will help to launch small satellites called cubesats into space in a way that is relatively cheaper than using traditional rocket fuel and is less toxic for the environment.

Other rockets being developed by the company include Stardust Gen. 2, Starless Rouge, and Red Dwarf, which is a low-Earth orbit (LEO) vehicle and is designed to fly a maximum payload of 30 kg.

The accommodation of mini payloads provides easier access to space to not only experienced researchers but also to students who are part of educational institutions.
Biofuels
Biofuels are obtained from biomass, which can be converted directly into liquid fuels that can be used as transportation fuels.

The two most common kinds of biofuels in use today are ethanol and biodiesel and they both represent the first generation of biofuel technology.

Ethanol, for instance, is renewable and made from different kinds of plant materials. Biodiesel on the other hand is produced by combining alcohol with new and used vegetable oils, animal fats or recycled cooking grease.