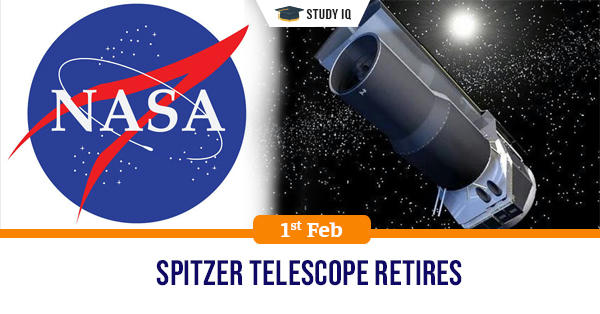 Spitzer telescope retires
Date: 01 February 2020
Tags: Space
Issue
NASA has decommissioned the Spitzer Space Telescope, one of its greatest observatories which had studied the universe by detecting cosmic infrared radiation for more than 16 years.
Background
The Spitzer telescope was not given further extension in anticipation of the launch of the James Webb Space Telescope (JWST), which will also conduct infrared astronomy.
Details
The planned mission period was to be 2.5 years with a pre-launch expectation that the mission could extend to five or slightly more years until the onboard liquid helium supply was exhausted.

Spitzer studied some of the most distant galaxies ever detected with the light from some of the cosmic bodies travelling for billions of years to reach the telescope.

By detecting infrared light, with wavelengths ranging from about 700 nanometres, Spitzer could help astronomers unveil the presence of cosmic entities which are too cold to emit much visible light, including planets outside our solar system, and cold matter found in the space between stars.

Spitzer also found a previously undetected ring around Saturn, composed of sparse dust particles that visible-light observatories cannot see.