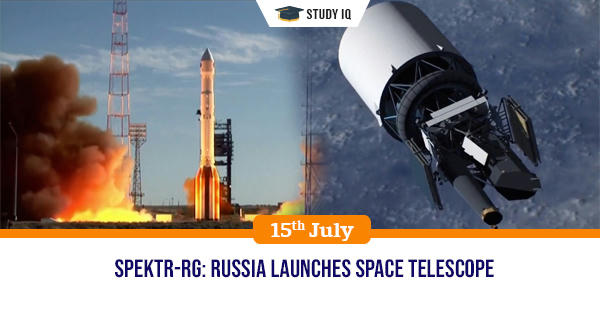 SPEKTR-RG: Russia launches space telescope
Date: 15 July 2019
Tags: Space
Russia launched a space telescope named Spektr-RG from cosmodrome in Baikonur, Kazakhstan. It was launched onboard of Proton-M rocket. It is intended to map X-rays across sky and replace Spektr-R project lost in January 2019.
About Spektr-RG
It is a space observatory intended to observe black holes, neutron stars and magnetic fields. It has been developed by Russia with Germany.

Objective:

It intends to replace Spektr-R, known as "Russian Hubble", which Roskosmos lost control of in January 2019. Spektr-R was launched in 2011 to observe black holes, magnetic fields and neutron stars. Its successor will take up similar duties.

Mission Life:

It is set to last for six-and-a-half years including four-year scanning of space and the remainder spent observing objects in space. During its lifetime, it is expected to uncover around three million super-massive black holes as well as some 100,000 massive galaxy clusters strung out across the known universe.

Orbit:

Its observing position is located some 1.5 million kilometres (900,000 miles) above Earth.