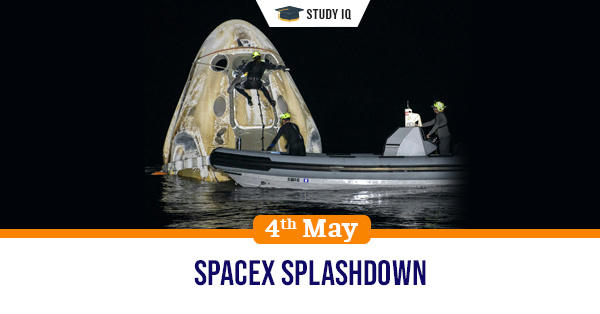 SpaceX splashdown
Date: 04 May 2021
Tags: Space
Issue
SpaceX has successfully demonstrated the Crew-1 mission for NASA after its Dragon Spacecraft made a landing on Earth.
Background
SpaceX has successfully built a transport module to ferry astronauts to and fro ISS. This marks an important phase in private space technology.
Details
The spacecraft landed in the Gulf of Mexico near the coast of Florida and was steered by the astronauts abroad the capsule.

This completes the first operational mission by SpaceX for NASA. The Resilience capsule had taken off towards ISS with four Crew-1 astronauts, who returned back.

The ISS has now seven inhabitants left after arrival of the Crew-2 mission members abroad a capsule of SpaceX.
The beginning
The SpaceX Demo-2 test flight was carried out to see if the capsules could be used to ferry astronauts to ISS.

The astronauts conducted various experiments including food physiology and effects of dietary improvements on immune function and the gut microbiome.
Significance of mission
Space capsules can land on both hard ground and water. The last such mission to land during dark time was the historic Apollo 8 mission to Moon in 1968.

Russia's Soyuz capsules in contrast perform hard landing on ground. China's Shenzhou capsules also follow the same technique.

Originally, the plan was to perform ground landings but was postponed owing to bad weather.

In addition, day time landings are risky due to presence of pleasure watchers and large number of private fishermen.