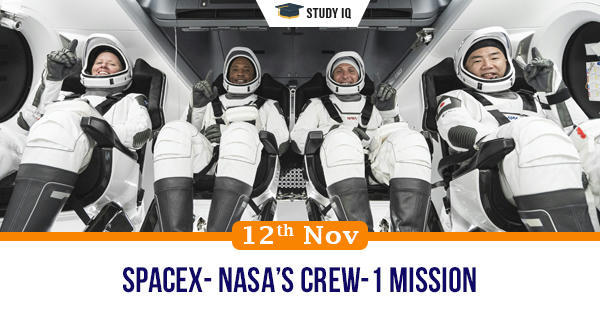 SpaceX- NASA's Crew-1 mission
Date: 12 November 2020
Tags: Space
Issue
SpaceX's Crew Dragon spacecraft will lift off from NASA's Kennedy Space Center in Florida carrying a crew of four people to the International Space Station (ISS) on a six-month-long mission.
Background
NASA certified SpaceX's Crew Dragon capsule and the Falcon 9 rocket, making it the first spacecraft certification provided by the space agency.
Details
The integrated spacecraft, rockets, and associated systems will carry up to four astronauts on NASA missions, maintaining a space station crew of seven to maximize time dedicated to scientific research on the orbiting laboratory.

The mission is part of NASA's Commercial Crew Program, whose objective is to make access to space easier in terms of its cost, so that cargo and crew can be easily transported to and from the ISS, enabling greater scientific research.

The Crew-1 team will join members of Expedition 64 and conduct microgravity studies and deliver new science hardware and experiments that they will carry with them to space aboard the Crew Dragon spacecraft.

Some of the research that the crew is carrying with themselves includes materials to investigate food physiology, which will study the effects of dietary improvements on immune function and the gut microbiome and how those improvements can help crews adapt to spaceflight.

Another experiment aboard the Crew Dragon is a student-designed experiment titled, "Genes in Space-7" that aims to understand how spaceflight affects brain function.

Other experiments include research that will enable scientists to understand the physical interactions of liquid, rocks, and microorganisms, experiment on the role of microgravity on human health, and another on how microgravity affects heart tissue.
SpaceX
Space Exploration Technologies Corp. is an American aerospace manufacturer and space transportation services company.

It was founded in 2002 by Elon Musk with the goal of reducing space transportation costs to enable the colonization of Mars.

SpaceX has developed several launch vehicles, the Starlink satellite constellation, the Dragon cargo spacecraft, and flown humans to the International Space Station on the Crew Dragon Demo-2.