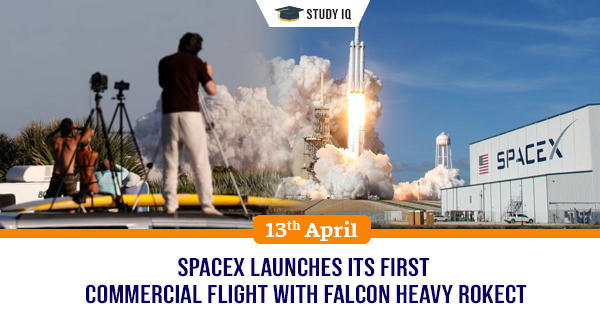 SpaceX launches its first commercial flight with Falcon Heavy Rokect
Date: 13 April 2019
Tags: Space
Elon Musk led US space company SpaceX has carried out its first commercial launch of its reusable Falcon Heavy rocket. It achieved this feat by placing 13,000-pound Saudi Arabian telecommunication satellite is operated by Arabsat into its designated orbit after it was launched from Kennedy Space Center in Cape Canaveral, Florida. It was also for the first time that all three reusable boosters of rocket returned safely to Earth. Saudi satellite telecom satellite will provide television, internet and mobile phone service to the Middle East, Africa and Europe.
Falcon Heavy Rocket
It is partially reusable heavy-lift launch vehicle designed and manufactured by SpaceX.

It is derived from Falcon 9 vehicle and consists of strengthened Falcon 9 first stage as central core with two additional first stages as strap-on boosters. It strength equals to three Falcon 9 rockets.

It can lift payload having total weight of 64 tons into the orbit, highest payload capacity of any currently operational launch vehicle.

It was initially designed with an aim of sending humans to Moon or Mars, but now is being considered mainly as potential equipment carrier for deep space destinations.

First successful launch:

It was in February 2018, when it had launched SpaceX founder Elon Musk's red Tesla roadster car into orbit as test. The electric car was outfitted with mannequin dressed in spacesuit.