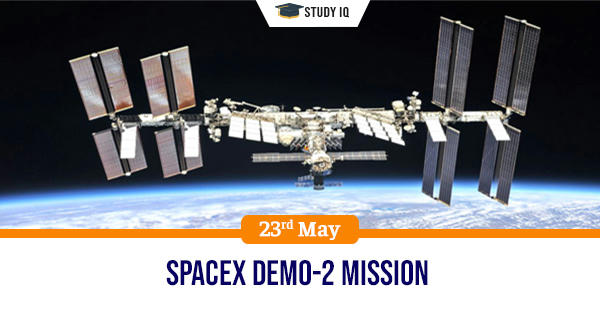 SpaceX Demo-2 mission
Date: 23 May 2020
Tags: Space
Issue
On May 27, NASA's SpaceX Demo-2 test flight will lift off for International Space Station (ISS), becoming the first crewed flight to launch from American soil since the conclusion of the space shuttle era in 2011.
Background
The Demo-2 mission is part of NASA's Commercial Crew Program, and will see astronauts fly on SpaceX's Crew Dragon spacecraft. The craft will lift off from a Falcon 9 rocket, from Florida.
Details
NASA's Commercial Crew Program has worked with several American aerospace industry companies to facilitate the development of US human spaceflight systems since 2010, with the aim of developing reliable and cost-effective access to and from the ISS.

Essentially, the lift-off on May 27 is a flight test to certify if SpaceX's crew transportation system can be used to ferry crew to and from the space station regularly.

After its launch, the Crew Dragon will perform a series of phasing manoeuvres to gradually approach and autonomously dock with the ISS on May 28. After docking, the two astronauts will go aboard the ISS.

They will perform tests of the Crew Dragon and conduct research with Expedition 63, the space station crew currently in residence at ISS.

The Crew Dragon spacecraft being used for this mission can stay in orbit for up to 110 days, though the specific duration is yet to be determined. If SpaceX spacecraft are used regularly, they will need to stay in orbit for a period of at least 210 days as per NASA's requirements.

Once the mission is over, astronauts will board the Crew Dragon, which will automatically undock, depart from the station and re-enter the Earth's atmosphere.

The main objective of this program is to make access to space easier in terms of its cost, so that cargo and crew can be easily transported to and from the ISS, enabling greater scientific research.

By encouraging private companies such as Boeing and SpaceX to provide crew transportation services to and from low-Earth orbit, NASA can focus on building spacecraft and rockets meant for deep space exploration missions.