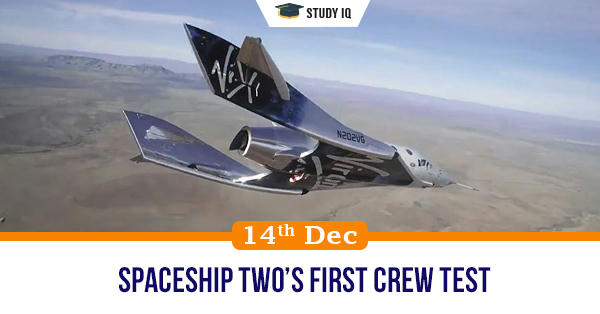 SpaceShip Two's first crew test
Date: 14 December 2020
Tags: Space
Issue
Virgin Galactic will launch a test flight of SpaceShipTwo, its reusable winged spacecraft for the first time and is expected to reach an altitude of 80 km.
Background
Virgin Galactic is a publicly traded company founded by British entrepreneur Richard Branson and is one of the companies that is working on offering flights to space to paying customers.
Details
The flight will mark the first crewed flight of the rocket-powered spacecraft that eventually aims to carry tourists to space, which the company claims will start in 2021.

Once the spacecraft takes off, it will test elements of the customer cabin and flight controls. The spacecraft will also carry payloads as part of its agreement with NASA.

SpaceShipTwo can carry a total of eight people, including two pilots, and has more windows than any other spacecraft in history. When it was unveiled in 2016, it was named VSS Unity by Stephen Hawking.
Scope of space tourism
Space tourism is a segment of space travel that seeks to give lay people the opportunity to go to space for recreational, leisure or business purposes.

The idea is to make space more accessible to those individuals who are not astronauts and want to go to space for non-scientific purposes.

As of now, companies including Virgin Atlantic, SpaceX, XCOR Aerospace, Jeff Bezos's Blue Origin, and Armadillo Aerospace are working on providing space tourism services to people.