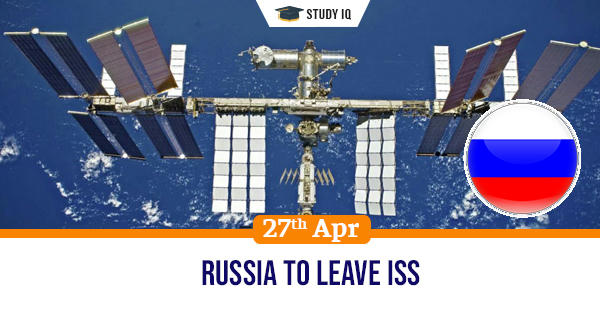 Russia to leave ISS
Date: 27 April 2021
Tags: Space
Issue
Russia has announced to withdraw from International Space Station (ISS) from 2025 after decades of space cooperation.
Background
The decision to exit came after relations between Russia and US has been deteriorating over the past few years across multiple fronts.
Details
A space station is a type of spacecraft that stays in low-earth orbit for large period of time. It is like a large space laboratory that will allow astronauts to visit, stay and conduct experiments.

The ISS is being managed by NASA (US), ESA (Europe), CSA (Canada), Roscosmos (Russia), and JAXA (Japan).

It has been operating since 1998. The Mir Space Station of Soviet union was functional from 1986 to 2001.

The ISS has hosted research and educational studies from researchers of 108 countries and areas.

They have carried out research in various fields such as biology, human physiology, and physical, material and space science.
Russian contribution
Russia was central for the space program as it had a major role in modular space station construction in initial phase.

The Russian Soyuz passenger shuttle was the only way through which astronauts could reach ISS after US retired its shuttle programme.

The dependency has been slowly reduced after NASA made use of shuttle developed by SpaceX. Russia is set to lose out on US funding for ferrying astronauts.
Russia's plans for future
Russia is planning to build and launch its own version of space station by 2030. The space module is currently being assembled and will cost about $5 billion.

The space module will be revolving at higher latitude to enable it to have a better view of Earth's Polar Regions owing to Russia's interest in developing the polar route.

Russia is of the belief that ISS is old and it poses risk to its cosmonauts. The scientific structure cannot be adopted for new type of research.
Implications
Leaving the ISS would mean losing access to the module it had major role in building. The real potential of ISS is yet to be reaped.

Russia will manage its Space module by itself but will allow other agencies to participate in the studies.