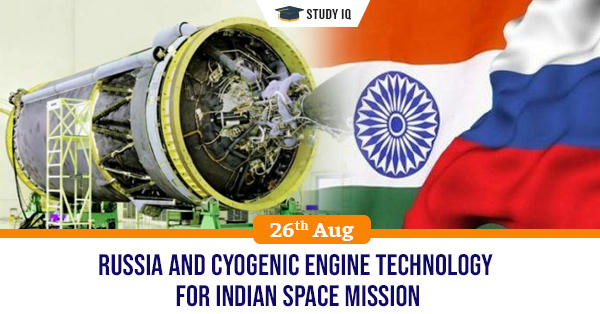 Russia and Cyogenic Engine technology for Indian Space mission
Date: 26 August 2019
Tags: Space
Issue
Russian space agency ROSCOSMOS has offered its semi-cryogenic engine technology and critical components for India's human space capsule mission Gaganyaan.
Background
Russia has played an important role in India's space journey, and space remains one of the key pillars of the strategic partnership between the two countries. Over the years India's indigenous space programme has benefited from Russian technical and scientific assistance.
Cyogenic Engines
A cryogenic rocket engine is a rocket engine that uses a cryogenic fuel or oxidizer. The fuel or oxidizer are gases liquefied and stored at very low temperatures.
Working
Rocket engines need high mass flow rates of both oxidizer and fuel to generate useful thrust. Oxygen, the simplest and most common oxidizer, is in the gas phase at standard temperature and pressure. The coomon fuel hydrogen is also same as oxygen.

Various cryogenic fuel-oxidizer combinations have been tried, but the combination of liquid hydrogen (LH2) fuel and the liquid oxygen (LOX) oxidizer is one of the most widely used. Both components are easily and cheaply available, and when burned have one of the highest enthalpy releases in combustion.
Details of News
Russia is offering its semi-cryogenic rocket engine technology to India under the `Make-in-India' programme. The rocket engines could be made in India and used in our rockets.

The two countries will also discuss cooperation in the sphere of piloted space flights, satellite navigation and engine technology.

The two countries are also discussing the setting up of ground stations in each other's countries to enhance the accuracy of their satellite navigation signals.