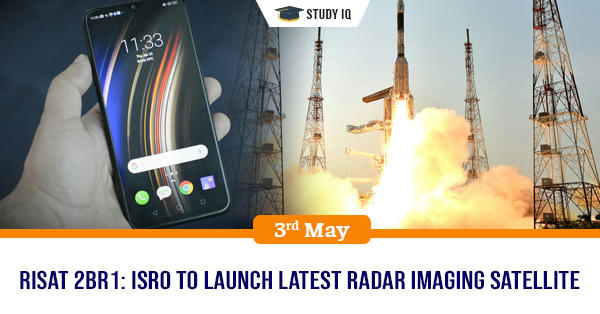 RISAT 2BR1: ISRO to launch latest radar imaging satellite
Date: 03 May 2019
Tags: Space
Indian Space Research Oganisation (ISRO) will launch its latest radar imaging satellite RISAT 2BR1 by end of May 2019. It will be launched on board PSLV-C46 from first launchpad of Sriharikota spaceport in Andhra Pradesh.
About RISAT Series
RISAT-2
ISRO had deployed first RISAT satellted in orbit on April 20, 2009. It was dubbed as RISAT-2. It mainly used X-band-synthetic aperture radars (SAR) to provide Indian armed forces with all-weather surveillance and observation to notice any potential threat or malicious activity around the nation's borders. It had capability to take images of Earth during day and night, as well as in all weather conditions including cloudy conditions.
Following 2008 Mumbai terror attacks (26/11), ISRO had prioritized launch of RISAT-2 over RISAT- 1, as its C-band SAR radar was not ready and RISAT -2 was carrying advance Israeli-built X-band SAR.
The X-band SAR used by RISAT-2 was obtained from Israel in return for launch services for Israeli TecSAR satellite. The SAR sensor had enabled RISAT-2 to capture and send images at any time of day and in all weather conditions.
RISAT-1
ISRO had launched successfully launched RSAT-1 in April 2012 for lifespan of five years (active till 2017). It was first indigenous microwave remote designed and developed by ISRO.
It was not designed as a surveillance satellite, given its reliance on the C-band. But it was extensively or natural resources management, primarily agriculture planning and forestry surveys. It was also used to predict and prevent flooding. It was also used for monitoring paddy plantations and yields in the kharif season and to assist India's food security planning
RISAT-2BR1 satellite
It uses the same SAR band similar to RISAT-2. It will further improve India's imaging reconnaissance and surveillance capabilities.