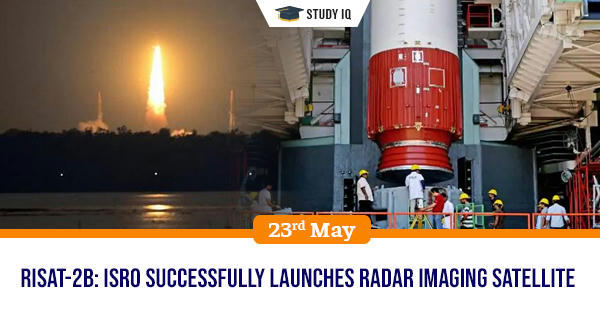 RISAT-2B: ISRO successfully launches radar imaging satellite
Date: 23 May 2019
Tags: Space
Indian Space Research Organisation (ISRO) successfully launched radar imaging satellite RISAT-2B. It was launched on-board Polar Satellite Launch Vehicle (PSLV-C46) from first launch pad of Satish Dhawan Space Centre (SDSC) SHAR, Sriharikota in Andhra Pradesh. In this mission, 'Core-Alone' configuration of PSLV was flown without the use of solid strap-on motors.
RISAT-2B
It is radar imaging earth observation satellite weighing about 615 kg. RISAT stands for Radar Imaging Satellite.

It will be replacement of RISAT-2. It will have a mission life of five years. It will be placed in Low Earth Orbit.

It is fourth satellite of RISAT programme. It has advanced technology of 3.6m radial rib antenna.

It uses synthetic aperture radar like its predecessors that can take pictures known as radar images of the earth during day and night, and also under adverse weather (cloudy) conditions.

Synthetic Aperture Radar (X band radar):

It send out hundreds of large wavelength radio signals every second towards subject (in this case earth) and capture reflected signals to create a radio image, which can then be used by computers to build a real image.

As large wavelength radio waves are not obstructed by clouds, dust or similar other obstacles in atmosphere, they produce reliable images during day and night and all seasons even in adverse weather conditions.

Significance:

Unlike usual remote sensing and optical imaging satellites, a radar imaging satellite can penetrate through thick cloud cover and identify hidden objects on the ground.

Applications:

It has been developed for military reconnaissance and general surveillance purposes. It will also be used in fields of agriculture, forestry and disaster management support.
RISAT series
Two satellites in RISAT series already have been launched by ISRO. RISAT-2 was the first one to be launched in 2009, while RISAT-1, which had got delayed, was launched in 2012. RISAT-1 is no longer operational.

RISAT-2:

It was placed in orbit in 2009. It was RISAT-1's replacement, a microwave remote sensing satellite launched in 2012. It was actively used India to monitor activities in camps across border in Pakistan to thwart infiltration bids by terrorists.
Future mission
ISRO will launch five RISAT-series satellites in coming one year. These satellites will be of different types and will be named as Risat-2BR1, Risat-2BR2, Risat-1A and thereon Risat-1B and Risat2A.
Need for radar imaging satellites with all-weather capabilities
With increased activities of infiltrators along Pakistan border, India needs more eye in the sky to keep an eye on terrorist launchpads and their hideouts. Moreover, surveillance satellites are also needed to monitor increasing activities of Chinese warships in Indian Ocean.