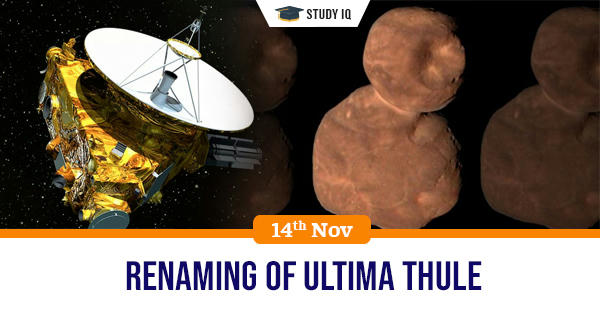 Renaming of Ultima Thule
Date: 14 November 2019
Tags: Space
Issue
Ultima Thule, the farthest cosmic body ever visited by a spacecraft, has been renamed Arrokoth, following a backlash over the previous name's Nazi connection.
Background
The icy rock, which orbits in the dark and frigid Kuiper Belt about a billion miles beyond Pluto, was surveyed by the NASA spaceship New Horizons in January, with images showing it consisted of two spheres stuck together in the shape of a snowman.
Details
Its technical designation is 2014 MU69, but the New Horizon team nicknamed it Ultima Thule after a mythical northern land in classical and medieval European literature described as beyond the borders of the known world.

That name sparked an angry reaction as it was co-opted by far-right German occultists in the early 20th century as the fabled ancestral home of "Aryan" people.
Ultima Thule (Arrokoth)
Arrokoth, provisional designation 2014 MU69 and nicknamed Ultima Thule at the time of the New Horizons flyby, is a trans-Neptunian object located in the Kuiper belt.

Arrokoth became the farthest and most primitive object in the Solar System visited by a spacecraft.
New Horizons mission
New Horizons is an interplanetary space probe that was launched as a part of NASA's New Frontiers program.

The spacecraft was launched in 2006 with the primary mission to perform a flyby study of the Pluto system in 2015, and a secondary mission to fly by and study one or more other Kuiper belt objects (KBOs) in the decade to follow, which became a mission to Arrokoth.

The New Horizons spacecraft is now at the outer edges of the Kuiper Belt that extends from the orbit of Neptune, and will join Voyager 1 and 2 beyond the Sun's sphere of influence and into interstellar space.