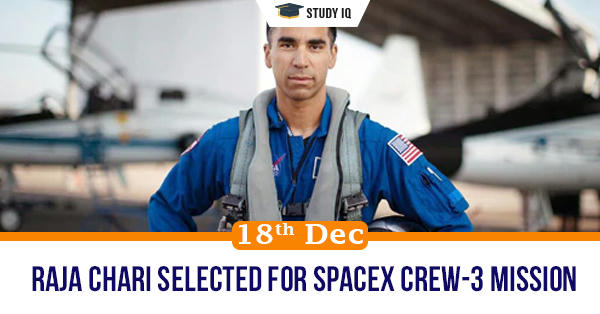 Raja Chari selected for SpaceX Crew-3 mission
Date: 18 December 2020
Tags: Space
Issue
Raja Chari is among the three astronauts selected by NASA and the European Space Agency to fly to the International Space Station (ISS) as part of the SpaceX Crew-3 mission.
Background
Chari was among the new graduates who completed more than two years of basic training and became the first to graduate from NASA's Artemis programme.
Details
Raja Chari was selected by NASA to join the 2017 Astronaut Candidate Class. Earlier this month, he was selected as a team member for NASA's Artemis programme, making him eligible for assignments to future lunar missions.

Chari hails from Cedar Falls in Iowa. He graduated from the US Air Force Academy with a Bachelor's degree in astronautical engineering and engineering science.

He earned a Master's degree in aeronautics and astronautics from the Massachusetts Institute of Technology (MIT) and graduated from the US Naval Test Pilot School in Patuxent River, Maryland.

Chari served as the commander of the 461st Flight Test Squadron and the director of the F-35 Integrated Test Force at Edwards Air Force Base (AFB) in California.
SpaceX Crew-3 mission
The Crew-3 mission is part of NASA's contract with SpaceX, under its Commercial Crew Programme, as per which SpaceX will provide six crew missions to the ISS for NASA astronauts. The idea is to provide reliable, safe and cost-effective crew access to the space station and the low-Earth orbit.
Artemis program
The Artemis program is a US government-funded international human spaceflight program that has the goal of landing "the first woman and the next man" on the Moon, specifically at the lunar South pole region by 2024.