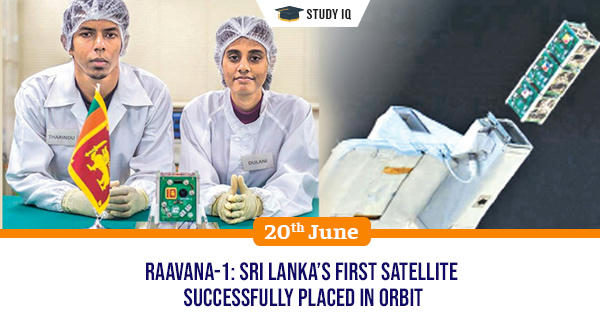 Raavana-1: Sri Lanka's first satellite successfully placed in orbit
Date: 20 June 2019
Tags: Space
Sri Lanka's first ever satellite Raavana 1 was launched successfully into orbit from International Space Station along (ISS) with two other BIRDS 3 satellites. These satellites were launched in February 2019 on board of Northrop Grumman Antares rocket launched from Mid-Atlantic Regional Spaceport at NASA's Wallops Flight Facility in Virginia. It was launched along with other BIRDS-3 satellites from Japan and NepaliSAT-1 (Nepal's first satellite).
About Raavana-1 Satellite
It is research satellite designed and built at Kyushu Institute of Technology in Japan by two Sri Lankan research engineers.

It was designed and developed under BIRDS 3 Project by two Sri Lankan engineers Dulani Chamika and Tharindu Dayaratne studying space engineering at Japan's Kyushu Institute of Technology.

It is cube satellite weighing around 1.05 kg and measuring 11.3 cm x 10 cm x 10 cm in dimensions. It has lifespan of the satellite is around one and a half years. It is expected to orbit 400 km away from earth.

It will perform five missions including the capturing of pictures of Sri Lanka and its surrounding regions. Its Lora Demonstration Mission will validate module to be used to data download next satellites. Its Attitude Determination and Control Mission will involve reduction of angular velocity of satellite using magnetic torquers.
About BIRDS 3 Project
It is an acronym for 'Joint Global Multi-Nation Birds Satellite project'. It is a cross-border interdisciplinary satellite project supported by Japan for non-space faring countries. It is led by Japan's Kyushu Institute of Technology. It aims at creating indigenous space program of countries by designing, building, operating, testing and launching first satellite for participating nations.