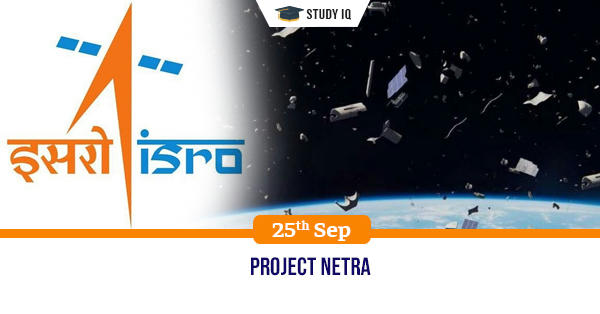 Project NETRA
Date: 25 September 2019
Tags: Space
Issue
The Indian Space Research Organisation (ISRO) has initiated 'Project NETRA' , an early warning system in space to detect debris and other hazards to Indian satellites.
Background
The project estimated to cost ?400 crore, which once implemented will give India its own capability in Space Situational Awareness (SSA) like the other space powers which is used to 'predict' threats from debris to Indian satellites.
It also goes so far as to serve as an unstated warning against missile or space attack for the country.
Details
NETRA's eventual goal is to capture the GEO, or geostationary orbit scene at 36,000 km where communication satellites operate.

SSA will first be for low-earth orbits or LEO which have remote-sensing spacecraft and will work under NETRA, or Network for space object Tracking and Analysis.

The ISRO plans to put up many observational facilities: connected radars, telescopes; data processing units and a control centre in order to implement NETRA.
Importance
Space debris could be floating particles from dead satellites or rocket parts that stay in orbit for many years.

A small speck of paint or fragment floating towards their spacecraft can disable on board electronics and cripples the satellite worth several hundred crore rupees besides many services that run on it.

Agencies constantly look for debris at the time of a launch and through the life of a satellite for its protection.
Current debris trackers
NORAD, or the North American Aerospace Defense Command, is an initiative of the U.S. and Canada that shares selective debris data with many countries.

NORAD, too, uses satellites, ground and air radars to secure its two countries against attacks from air, space or sea.