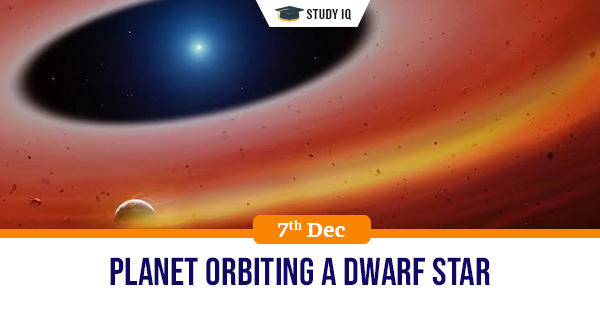 Planet orbiting a dwarf star
Date: 07 December 2019
Tags: Space
Issue
New evidence suggests that planets which are in the vincinity of white dwarf stars can survive. Astronomers have reported the first indirect evidence of a giant planet orbiting a white dwarf star.
Background
It is the first time any such planet has been found. The study suggests there could be many more planets around such white dwarf stars waiting to be discovered.
Details
The Neptune-like planet orbits the white dwarf every ten days, and cannot be seen directly. The evidence is in the form of a disc of gas (hydrogen, oxygen and sulphur) formed from its evaporating atmosphere.
Spikes of gas were detected by the Very Large Telescope of the European Southern Observatory in Chile.
The discovery is significant, because while there was growing evidence accumulated in the past two decades that planetary systems can survive into white dwarf stars, only smaller objects such as asteroids had been detected so far. This is the first evidence of an actual planet in such a system.
White dwarf
A white dwarf is what stars like the Sun become after they have exhausted their nuclear fuel. Near the end of its nuclear burning stage, this type of star expels most of its outer material, creating a planetary nebula. Only the hot core of the star remains.
Red giant
A red giant star is a dying star in the last stages of stellar evolution. In only a few billion years, our own sun will turn into a red giant star, expand and engulf the inner planets.
Neutron star
Neutron stars are created when giant stars die in supernovas and their cores collapse, with the protons and electrons essentially melting into each other to form neutrons.
Quasars
Quasars are distant objects powered by black holes a billion times as massive as our sun. It is an extremely luminous active galactic nucleus (AGN), in which a supermassive black hole with mass ranging from millions to billions of times the mass of the Sun is surrounded by a gaseous accretion disk.