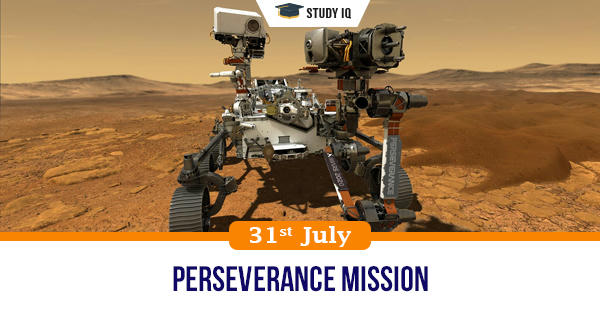 Perseverance mission
Date: 31 July 2020
Tags: Space
Issue
NASA launched its Mars Perseverance Rover on July 30 at 17:20 IST from Cape Canaveral Air Force Station, Florida.
Background
The main aim of the Mars Perseverance Rover is to seek signs of ancient life and collect rock and soil samples for a possible return to Earth. The duration of the mission is expected to be at least one Mars year which is equivalent to 687 days on Earth.
Details
Perseverance will carry a unique instrument, MOXIE, or Mars Oxygen ISRU Experiment: which for the first time will manufacture molecular oxygen on Mars using carbon dioxide from the carbon-dioxide-rich atmosphere.

Perseverance will carry Ingenuity, the first-ever helicopter to fly on Mars. This is the first time NASA will fly a helicopter on another planet or satellite.

Mars helicopter can help in rover drive planning and in fetching samples from locations that the rover cannot safely drive to.

Perseverance is the planned first step to bring back rock samples from Mars for analysis in sophisticated laboratories on Earth: with the goal of looking for bio-signatures: or signatures of present or past life.

Perseverance will collect samples and a second rover mission will fly within a decade to help transport the rock samples back to Earth.
Significance of rovers
Rovers provide a way to study the local area in much higher resolution than is possible from an orbiting spacecraft.

In addition, rovers have a suite of instruments from drills to spectrometers to microscopic imagers. These instruments help understand the local geology much like a field geologist would study rocks on Earth.

In addition, starting with Spirit and Opportunity, rovers have acted as mobile weather stations on Mars that monitor changes in the Martian atmosphere continuously over multiple years.