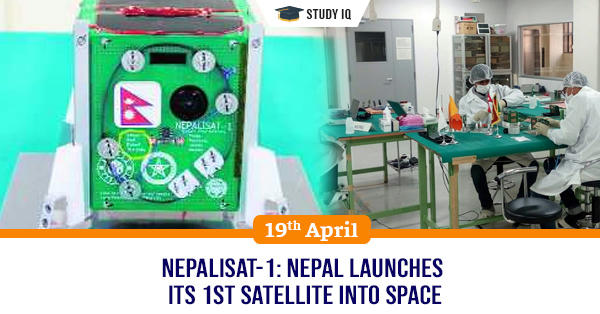 NepaliSat-1: Nepal launches its 1st satellite into space
Date: 19 April 2019
Tags: Space
Nepal has successfully launched its first satellite named NepaliSat-1 into space from NASA's Wallops Flight Facility on Virginia's East Shore in United States. The satellite was indigenously developed by Nepalese scientists. It was launched along with other BIRDS-3 satellites from Japan and Raavana-1 (Sri Lanka's first satellite). The satellite will be stationed at International Space Station (ISS) for month and then it will be sent to orbit the earth.
NepaliSat-1
It has been developed by two scientists from Nepal Academy of Science and Technology under the BIRDS project of Japanese Kyushu Institute of Technology. It is cube satellite that weighs 1.3 kg. It be placed low orbit at 400-km distance from Earth's surface. It will revolve around the earth four times a day. It is expected to take pictures of Nepal for six to 10 minutes during each revolution. It has lifespan of at least six months. It will take photographs on regular basis to gather geographical information of Nepal.
Note: BIRDS project has been designed Japan in association with United Nations (UN). It aims at helping countries launch their first satellite.