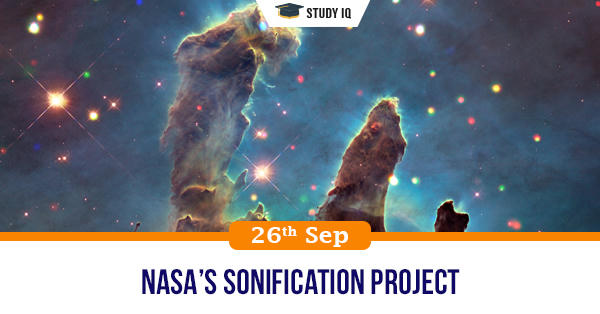 NASA's sonification project
Date: 26 September 2020
Tags: Space
Issue
NASA's Chandra X-Ray Center (CXC) has unveiled a new 'sonification' project that transforms data from astronomical images into audio.
Background
Users can now 'listen' to images of the Galactic Centre, the remains of a supernova called Cassiopeia A, as well as the Pillars of Creation Nebula, which are all located in a region around 26,000 light years away from Earth.
Details
The data has been collected by NASA's Chandra X-Ray Observatory, Hubble Space Telescope and Spitzer Space Telescope — each of which is represented by a different musical 'instrument'.

Data sonification refers to the use of sound values to represent real data. Simply put, it is the auditory version of data visualisation.

With this data sonification project, users can now experience different phenomena captured in astronomical images as an aural experience.

The birth of a star, a cloud of dust or even a black hole can now be 'heard' as a high or low pitched sound.

NASA's distant telescopes in space collect inherently digital data, in the form of ones and zeroes, before converting them into images.

The images are essentially visual representations of light and radiation of different wavelengths in space, that can't be seen by the human eye.

The Chandra project has created a celestial concert of sorts by translating the same data into sound. Pitch and volume are used to denote the brightness and position of a celestial object or phenomenon.

The translation begins on the left side of the image and then moves to the right. Stars and other compact sources are represented using individual short notes, while a longer humming sound is used to denote clouds of gas and dust.

The iconic Pillars of Creation is located in the centre of the Eagle Nebula, which is also known as Messier 16.

Over the years, NASA has been working towards making data about space accessible for a larger audience. Sonification projects like this allow audiences — including visually-impaired communities — to experience space through data.