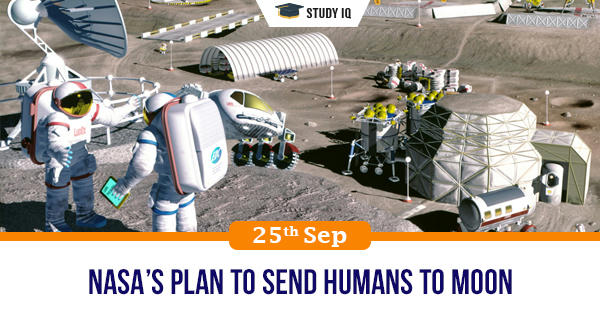 NASA's plan to send humans to moon
Date: 25 September 2020
Tags: Space
Issue
NASA published the outline for its Artemis program, which plans to send the next man and first woman to the lunar surface by the year 2024.
Background
With the Artemis program, NASA wishes to demonstrate new technologies, capabilities, and business approaches that will ultimately be needed for the future exploration of Mars.
Details
The program is divided into three parts, the first called Artemis I is most likely to be launched next year and involves an uncrewed flight to test the SLS and Orion spacecraft. Artemis II will be the first crewed flight test and is targeted for 2023. Artemis III will land astronauts on the Moon's South Pole in 2024.

NASA's new rocket called SLS will send astronauts aboard the Orion spacecraft a quarter of a million miles away from Earth to the lunar orbit.

Once the astronauts dock Orion at the Gateway — which is a small spaceship in orbit around the moon — they will be able to live and work around the Moon, and from the spaceship, will take expeditions to the surface of the Moon.

The astronauts going for the Artemis program will wear newly designed spacesuits, called Exploration Extravehicular Mobility Unit, or xEMU.

These spacesuits feature advanced mobility and communications and interchangeable parts that can be configured for spacewalks in microgravity or on a planetary surface.

Apart from the purpose of space exploration itself, NASA's endeavour to send Americans to the Moon again is to demonstrate American leadership in space and to establish a strategic presence on the Moon, while expanding the US global economic impact.

Apart from the US, the European Space Agency, Japan, China, and India have sent missions to explore the Moon.

China landed two rovers on the surface, which includes the first-ever landing on the Moon's far side in 2019.

The Indian Space Research Organisation (ISRO) recently announced India's third lunar mission Chandrayaan-3, which will comprise a lander and a rover.