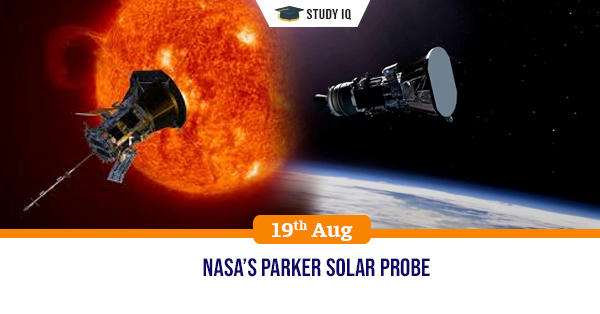 NASA's Parker solar probe
Date: 19 August 2019
Tags: Space
Issue
On August 12, NASA's Parker Solar Probe completed a year in service.
Background
It is part of NASA's "Living with a Star" programme that explores different aspects of the Sun-Earth system.

The probe seeks to gather information about the Sun's atmosphere and NASA aims to revolutionize our understanding of the Sun. It is also the closest a human-made object has ever gone to the Sun.
Details
Parker Solar Probe

(previously Solar Probe, Solar Probe Plus, or Solar Probe+, abbreviated PSP)

is a NASA

robotic spacecraft

launched in 2018, with the mission of repeatedly probing and making observations of the outer corona

of the

Sun

.

The mission's central aim is to trace how energy and heat move through the Sun's corona and to study the source of the solar wind's acceleration. The mission is likely to last for seven years during which it will complete 24 orbits.

Other

goals of the mission are
Determine the structure and dynamics of the

magnetic fields

at the sources of solar wind.

Determine what mechanisms accelerate and transport energetic particles.