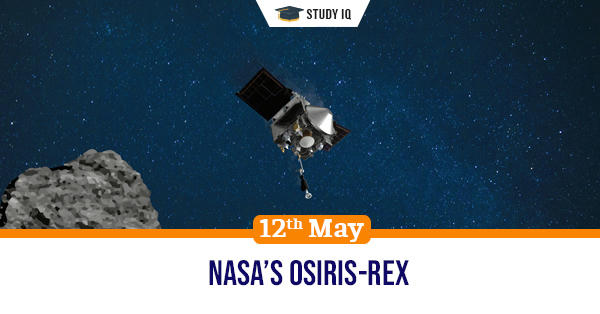 NASA's OSIRIS-REx
Date: 12 May 2021
Tags: Space
Issue
The OSIRIS-REx spacecraft of NASA will depart asteroid Bennu on a two-year journey towards Earth.
Background
The Origins, Spectral Interpretation, Resource Identification, Security, Regolith Explorer (OSIRIS-REx) is an experimental spacecraft to study asteroid in our solar system.
Details
The spacecraft made a brief landing on asteroid Bennu and collected some samples of pebbles and dust for examining on Earth.

The asteroid Bennu is ancient but has not undergone major changes since the birth of the universe. It contains the various chemicals and rocks that have not changed much.

Scientists believe that studying the rocks and chemicals will give them information about the origin of solar system, the Earth, other planets and the Sun.
Asteroid Bennu
Asteroid Bennu is a rocky special object that is present in our solar system. Asteroids are made up of rocks and are called minor planets.

It originated from the main asteroid belt between Mars and Jupiter and is slowly moving towards Earth.

Bennu is located at a distance of 200 million miles away from Earth and is as big as the Empire State Building.

Scientists study asteroid as they can get clue on origin of solar system. Tracking the asteroid will also help in identifying potentially hazardous asteroids.

Asteroid Bennu consists of large amounts carbon and various other minerals. It is classified under the B-Type asteroid.

It is assumed that Bennu was formed in the first 10 million years after creation of solar system. This puts its age to about 4.5 million years.

There is also a possibility that Bennu may strike Earth in the next century between 2175 and 2199. It is thus classified as Near Earth Asteroid.
Studying samples
NASA will preserve about 75 percent of the samples for the future generations to study using future technologies.

The rest will be used to study formation of the solar system and planets. Some samples will also be provided to labs worldwide.
OSIRIS-REx mission
NASA's OSIRIS-REx mission aims at sending a spacecraft to study asteroid Bennu and bring back samples to be studied on Earth.

It will be a seven year long voyage and will conclude once the spacecraft delivers the samples. It includes five instruments to study the asteroid.