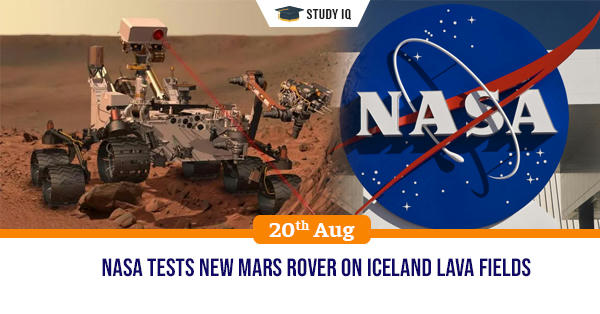 NASA tests new mars rover on Iceland lava fields
Date: 20 August 2019
Tags: Space
Issue
NASA has tested a prototype of new Mars rover in Icelandic volcanic fields for its preparation towards Mars mission 2020.
Background
Mars 2020 is a Mars rover mission by NASA's Mars Exploration Program with a planned launch on 17 July 2020, and touchdown in Jezero crater on Mars on 18 February 2021.
Details
The mission will seek signs of habitable conditions on Mars in the ancient past, and will also search for evidence called bio signatures which shows its past microbial life.

The rover is planned for launch in 2020 on an Atlas V-541, and the Jet Propulsion Laboratory will manage the mission.

The mission is part of NASA's Mars Exploration Program.
Objective of Mission
A key mission requirement is that it must help prepare NASA for its long-term Mars sample-return mission and crewed mission efforts.

It will test technology to produce a small amount of pure oxygen (O2) from Martian atmospheric carbon dioxide (CO2).

The mission will also attempt to identify subsurface water, improve landing techniques, and characterize weather, dust, and other potential environmental conditions that could affect future astronauts living and working on Mars.