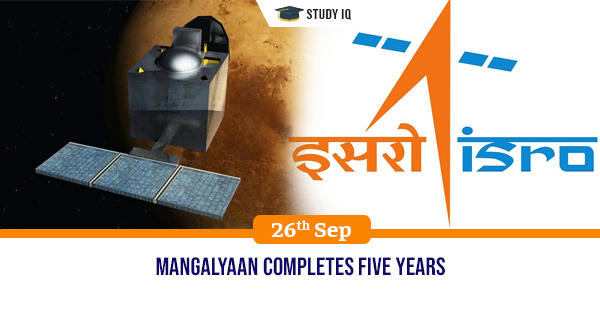 Mangalyaan completes five years
Date: 26 September 2019
Tags: Space
Issue
The Mangalyaan mission, which was initially meant to last six months has completed five years of orbiting Mars and is likely to continue for some more time, according to ISRO.
Background
In the past five years, the Mars Orbiter Mission (MOM), India's first interplanetary endeavour, helped India's space agency prepare a Martian Atlas based on the images provided by the orbiter.
Details
The Mars Orbiter Mission is the only artificial satellite that could image the full disc of Mars in one view frame and also image the far side of Deimos.

Mangalyaan is India's first endeavour to cross the earth's orbit successfully. The launch vehicle, spacecraft and ground segment cost ?450 crore.

An important conclusion of the mission has been the finding that dust storms on the Mars can rise up to hundreds of kilometres.
Mangalyaan mission
It is India's first interplanetary mission and it made it the fourth space agency to reach Mars, after Roscosmos, NASA, and the European Space Agency.

It made India the first Asian nation to reach Martian orbit and the first nation in the world to do so on its maiden attempt.
Aim
A. Technological Objectives:
Design and realisation of a Mars orbiter with a capability to survive and perform Earth bound manoeuvres, cruise phase of 300 days, Mars orbit insertion / capture, and on-orbit phase around Mars.

Deep space communication, navigation, mission planning and management.

Incorporate autonomous features to handle contingency situations.
B. Scientific Objectives:
Exploration of Mars surface features, morphology, mineralogy and Martian atmosphere by indigenous scientific instruments