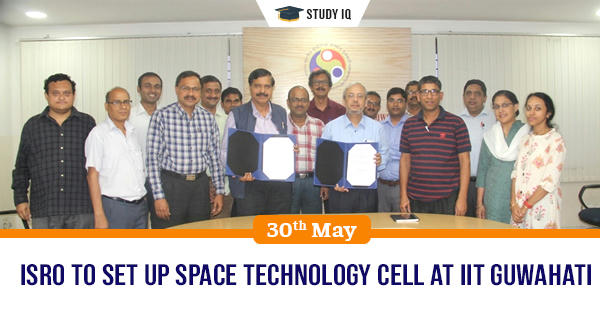 ISRO to set up Space Technology Cell at IIT Guwahati
Date: 30 May 2019
Tags: Space
Indian Space Research Organisation (ISRO) has signed MoU with Indian Institute of Technology (IIT) Guwahati to set up a Space Technology Cell (IITG-ISRO STC) within the premise of IIT Guwahati. It will be first-of-its-kind STC in northeast region to improve research and capacity building processes in the field of space technology.
IITG-ISRO STC
It will constitute of faculty members from IIT Guwahati, visiting scientists and experts from ISRO, research students and technical staff.

It will serve as platform for motivating and involving undergraduate, post graduate students and research scholars and orient them towards the realms of space-research activities.

By setting up STC, IIT Guwahati aims to initiate collaborative research activities involving faculty members and ISRO scientists, for short term and long-term solutions to challenging space-research problems.

It also aspire to partner with ISRO for performing cutting edge research not only catering to socio-economic needs of Northeast but also to contribute towards the basic research activities of various ISRO projects across India.