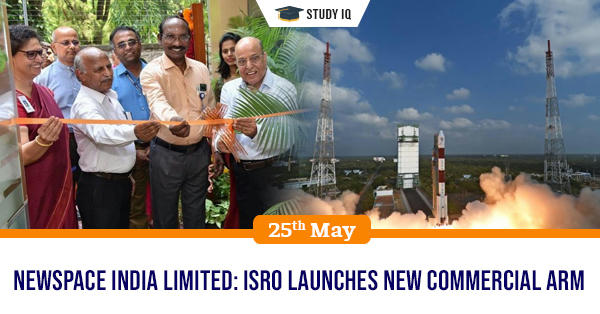 NewSpace India Limited: ISRO launches new commercial arm
Date: 25 May 2019
Tags: Space
Indian Space Research Organisation's (ISRO) new commercial arm -NewSpace India Limited (NSIL) was officially inaugurated in Bengaluru, Karnataka. Its main objective is to scale up industry participation in Indian space programmes.
About NewSpace India Limited (NSIL)
It was incorporated on March 6 2019 by Department of Space (DoS) for commercially utilising research and development activities carried out by ISRO in the area of space.

It is DoS's second commercial entity in ISRO after Antrix Corporation Limited, which was set up in September 1992 to market products and services of ISRO.

Capital: It is provided an authorised share capital worth Rs.100 crore and initial paid up capital of Rs.10 crore.

Functions:

It will act as aggregator for all space related activities in industry and develop private entrepreneurship in space related technologies.

It will be responsible for production and manufacturing of commercially successful Small Satellite Launch Vehicle (SSLV) and Polar Satellite Launch Vehicle (PSLV) spacecraft launchers via technology transfer mechanisms. It will cater to emerging global market demand of commercial SSLV

It will also provide satellite building and satellite-based services which includes outsource assembly of small satellites and upcoming SSLV, supply of sub-systems for various domestic and international application needs. It will also enable space technology spin-offs via Indian industry interface.