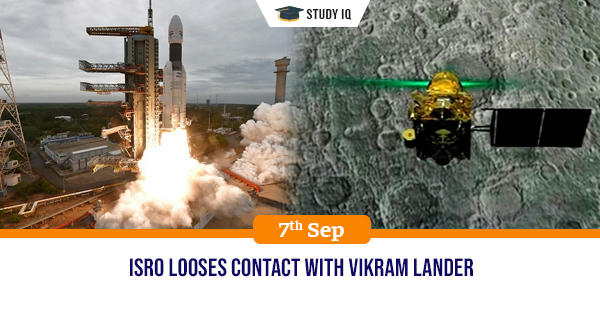 ISRO looses contact with Vikram Lander
Date: 07 September 2019
Tags: Space
Issue
ISRO chairman K. Sivan has told that communication has been lost with the Vikram lander as it was at the altitude of about 2 km from landing on the moon.
Background
After its launch on July 22, Chandrayaan 2 spent several weeks making its way to the moon, ultimately entering lunar orbit on Aug 20. On September 2, Vikram separated from the mission's orbiter, and the lander began a series of braking manoeuvres to lower its orbit and ready itself for landing.
Details
It is stated Only 5 per cent of the mission has been lost - Vikram, the lander, and Pragyan, the rover. The remaining 95 per cent, that is the Chandrayaan 2 orbiter, is orbiting the moon successfully.

Geosynchronous Satellite Launch Vehicle Mark III, or the GSLV Mk-III, the biggest and most powerful rocket in India's space garage carried with it the orbiter, lander and rover. The GSLV Mk-III successfully launched the orbiter.
Other Information
Chandrayaan-2 orbiter, going around the Moon, is capable of communicating with Indian Deep Space Network (IDSN) and the mission life of the Orbiter is one year.

The orbiter can take pictures of moon and send it to ISRO. The Orbiter can also take pictures of the lander to know its status.

The Chandrayaan-2 spacecraft comprised three segments the Orbiter (weighing 2,379 kg, eight payloads), 'Vikram' (1,471 kg, four payloads) and 'Pragyan' (27 kg, two payloads).